As the vibrant colors of fall paint the world with hues of red, orange, and gold, it's time to embrace the season's magic and start thinking of amazing fall festival ideas for school fundraisers.
From classic favorites that evoke the nostalgia of hayrides and pumpkin patches to innovative twists on traditional games and activities, we've got tons of fall festival activities for a wonderful event.
If you're a school looking to host an unforgettable event that brings together students, parents, and the community, our list of 40 fall festival ideas for school is just what you need!
So, grab your cozy sweaters, indulge in pumpkin-spiced everything, and check out these fall festival ideas that are sure to make your school event the highlight of the season!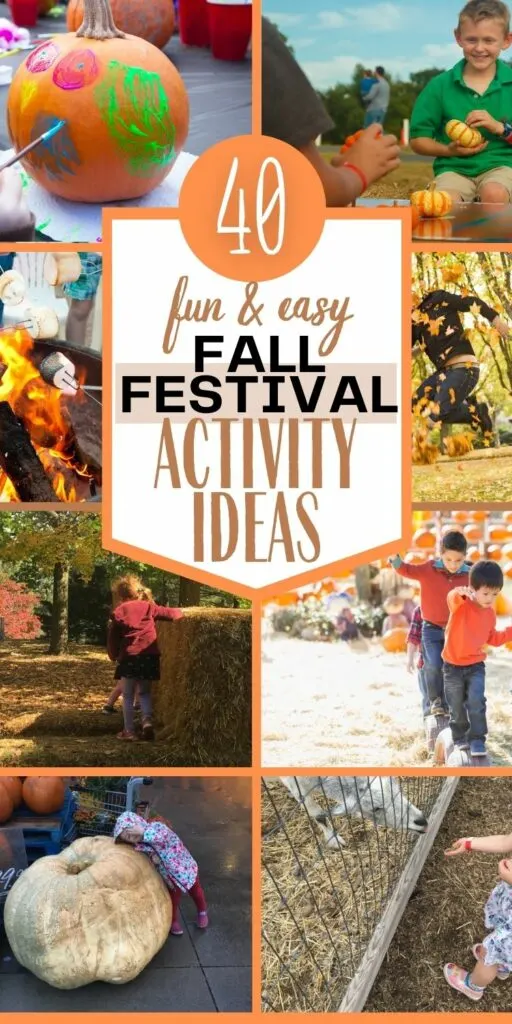 This post may contain affiliate links. Please read my disclosure for more information
MORE FALL FUN FOR KIDS
10 Easy Turkey Crafts For Kids
4 Easy Preschool Themes For Fall
The Best Fall Festival Ideas For School
The fall season is upon us, and you know what that means – it's time to get those creative gears turning for an unforgettable school fall festival!
Whether you're a seasoned party planner or a first-timer looking to make a splash, we've got you covered with a whopping 40 fall festival activities to turn your school event into the talk of the town.
Get ready to dive into a cornucopia of fall-tastic inspiration that will transform your school grounds into a wonderland of seasonal delights.
1. Apple Orchard Adventure
Fall and apples go together so why not embrace the season with some fun apple activities?
You could set up an apple bobbing station or apple painting for the little ones – just some apples in half and let them go to town using the apples as paintbrushes.
2. Harvest Hoedown
Yeehaw, partner!
Get your boots on and rustle up some fun with a good old-fashioned harvest hoedown.
If you have someone who is game, everyone loves a bit of line dancing and it is sure to be a huge hit with the school-aged crowd.
You could also serve a western-style barbecue that will have everyone boot-scootin' to the rhythm of the season.
If you are looking for fun and easy fall festival activities for the kids during your school event, how about a fun nature scavenger hunt?
You can use my free printable list of fall-themed items.
Simply print out copies, provide everyone with pencils and let them go to town hunting on the school grounds for treasures.
4. Colorful Leaf Craft Corner
Fall is one of the best times for fun crafts!
Celebrate the changing hues of the season with a creative leaf craft corner.
Kids can gather leaves from the schoolyard and use them to make beautiful leaf rubbings, leaf collages, and or little leaf foxes!
This is a fun crafty activity that is basically free to put together, making it perfect for a school fall fundraiser.
5. Pumpkin Carving Extravaganza
Host a pumpkin carving contest where kids, parents, and teachers can showcase their artistic talents by transforming pumpkins into spooky, silly, or fantastic creations.
You can encourage the guests to bring their pre-carved pumpkins to the festival and set them up on long tables for everyone to view.
Make sure to number each pumpkin so that everyone can vote for the best one.
Then all you have to do is provide paper, pencils and ballot boxes!
Don't forget to award a prize for the best one!
6. Petting Zoo Pals
Bring the joy of the farm to your festival with a charming petting zoo.
Kids can get up close and personal with friendly farm animals, providing a delightful and educational experience.
There are many small farms that will provide animals for a petting zoo on your premises, making it an easy and stress-free activity for you!
7. Autumn-inspired Arts and Crafts
Let the creative juices flow with a variety of fall-themed arts and crafts activities.
Set up stations for creating scarecrow masks, or making cute turkey trivets for Thanksgiving.
Kids will love showcasing their artistic talents and take home cherished mementos from the festival.
8. Spooky Storytelling Sessions
As the sun sets and darkness creeps in, gather the attendees around a flickering campfire for spine-tingling spooky storytelling.
Teachers, parents, or local storytellers can weave captivating tales of ghosts, witches, and eerie adventures, leaving both kids and adults on the edge of their seats.
9. Obstacle Course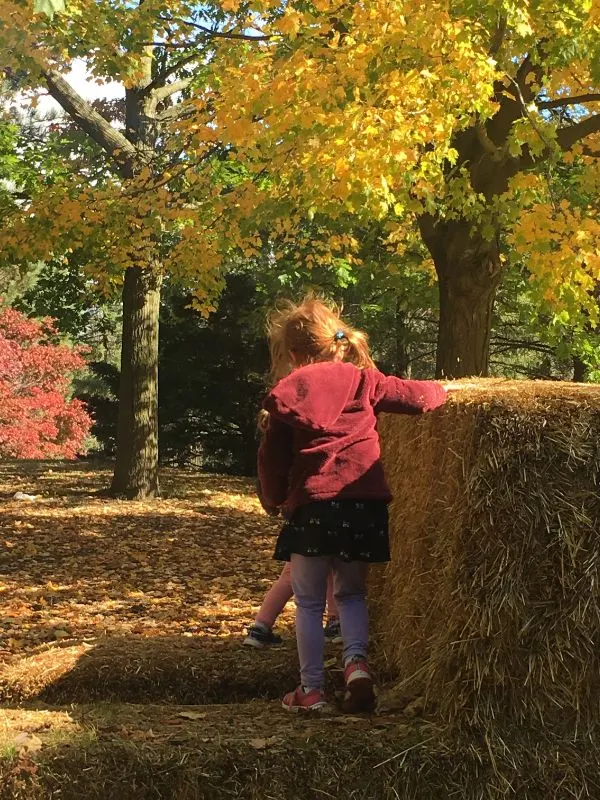 Turn hay bales into an exciting obstacle course that challenges both agility and balance.
Set up tunnels, jumps, and balance beams using hay bales, ensuring a fun-filled adventure for the young thrill-seekers.
You can do timed races or just let the kids have fun exploring the course themselves.
10. Pie Contest
Nothing says fall like a good old pie contest!
Fun competitions like this one are the mainstay of small town festivals and provide a homey way of celebrating at your fall event.
Encourage people to bring their best homemade pies to the festival and select a panel of lucky judges.
Be ready with some extra napkins and a prize for the best pie.
11. Gourd Throwing Competition
Organize some fun fall themed games that everyone can enjoy.
For example, you could have a gourd throwing contest with prizes for the furthest throw.
All you need for this fall festival activity are some little gourds in different shapes and a space to throw them.
Make sure to grab a measuring tape too!
12. Classic Fall Sports Tournament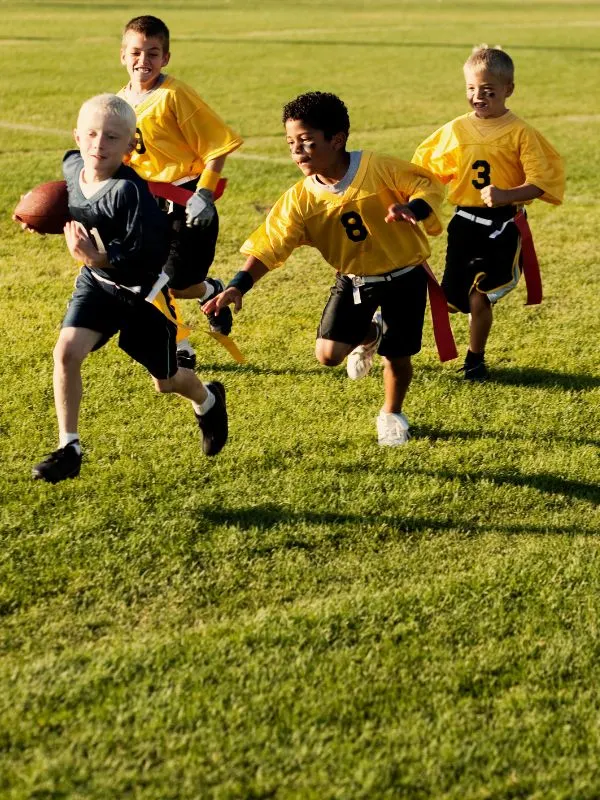 Organize a friendly sports tournament featuring classic fall activities like flag football, soccer, field hockey.
Gather teams from different grades or even challenge the teachers to compete for a friendly rivalry.
13. Build Your Own Scarecrow
Let creativity bloom with a scarecrow-building competition.
Provide participants with straw, old clothes, and accessories to craft their unique scarecrows.
Set up a scarecrow gallery where everyone can marvel at the imaginative creations.
14. Face Painting Station
Transform kids' faces into magical masterpieces with fall-themed face painting.
From cute pumpkins to fierce scarecrows, kids will love getting their faces adorned with vibrant colors and playful designs.
You can ask older kids to volunteer at this station, its easy if you keep the designs simple!
15. Pumpkin Bowling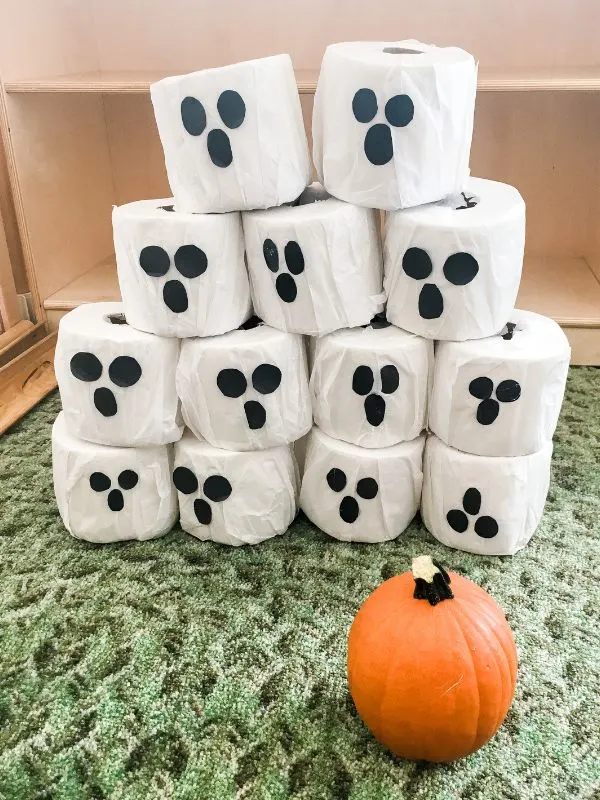 Put a spin on the traditional bowling game by using pumpkins as bowling pins.
Set up a bowling lane and let the kids roll a small pumpkin to knock down the larger ones or toilet rolls painted to be ghosts.
It's a fun and challenging activity that will have everyone cheering for strikes and spares!
Check out our list of even more Halloween party games.
16. S'mores Station
If you have room for a fire pit, why not give everyone a fall treat?
Set up a cozy s'mores station where kids can roast marshmallows over a crackling fire and sandwich them between graham crackers and chocolate for a delectable treat.
17. Fall Photo Booth
Capture the magical moments of the fall festival with a fall-themed photo booth.
You can use hay bales for benches and then set up a backdrop adorned with colorful leaves, pumpkins, and scarecrows.
Provide fun props like autumn hats, scarves, and signs with fall-themed quotes to add a dash of whimsy to the pictures.
18. The Great Pumpkin Roll Race
Get everyone to pair up with a friend or parent for this fun game!
Set up a "race course" along a field (about 20-30m is long enough) and have one person from each team at each end of the course.
The idea of the game is to roll your pumpkin along the grass using your hands as quickly as you can.
No picking up the pumpkin is allowed!
Turn it into a relay by having the next person do the same when they are tagged.
19. Cornucopia of Goodness
Organize a food drive to coincide with your fall festival.
Encourage attendees to bring non-perishable food items to donate to a local food bank or charity.
Set up a "Cornucopia of Goodness" display to collect the donations and teach kids the value of giving back to the community.
20. Decorate Your Own Caramel Apple
Who can resist the allure of caramel apples?
Create a DIY station where kids can dip their apples in gooey caramel.
Lay out a variety of toppings like chopped nuts, sprinkles, and chocolate chips so they can decorate them how they like.
21. Pumpkin Tic-Tac-Toe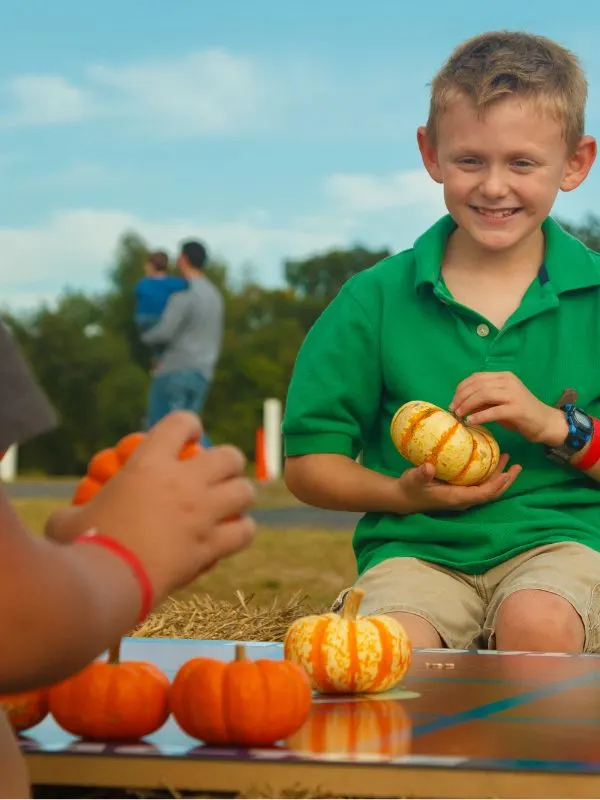 Spruce up the classic tic-tac-toe game with a fall twist.
Use mini pumpkins and gourds as game pieces on a large tic-tac-toe board.
It's a low-cost, yet highly engaging, activity for all ages.
22. Magic Acorn Hunt
Host an acorn hunt around the schoolyard or a nearby park.
First if all, dip collect a bunch of acorns and then dip them in glitter paint.
Hide them in various spots, and let the kids venture on a treasure hunt to find them all.
Provide small bags for them to collect their acorn loot.
23. Fall-themed Science Experiment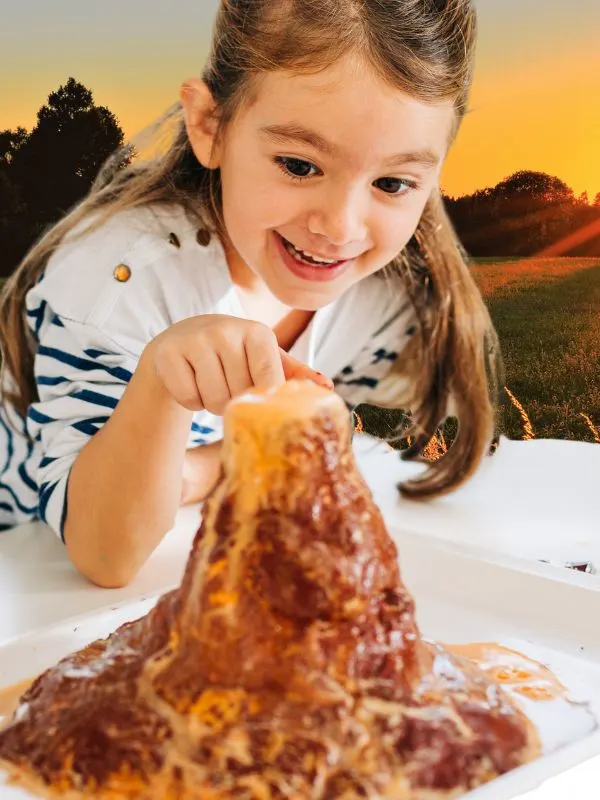 Combine education and fun by organizing fall-themed science experiments.
Create a "pumpkin volcano" by mixing baking soda and vinegar inside a carved pumpkin
You can set up stations so the kids can try it on their own too!
24. Harvest Photo Contest
Encourage budding photographers to capture the essence of fall by hosting a harvest photo contest.
Kids and adults alike can submit their best fall-themed photographs, and the winners can have their photos displayed at the school or featured in a yearbook.
25. Pumpkin Painting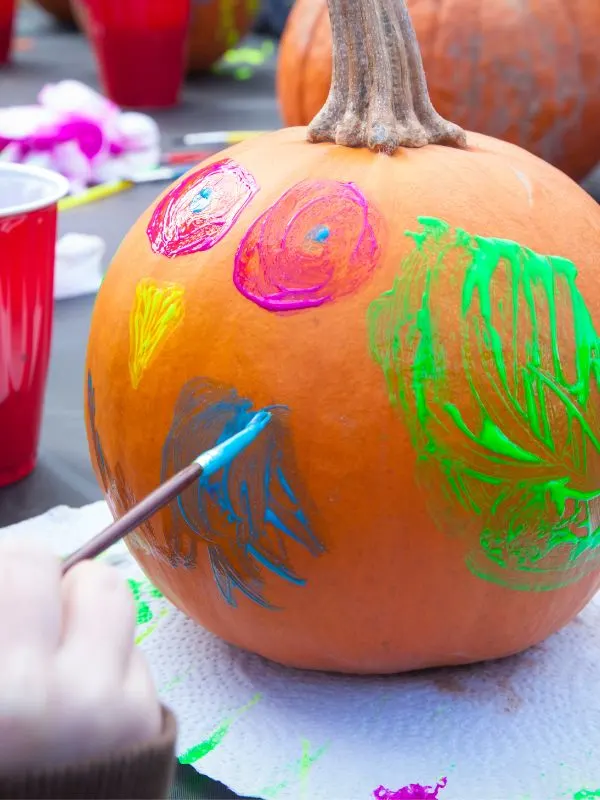 One of the most simple fall festival ideas is to let the kids paint their own pumpkins.
It safer than carving with a knife and allows them to be as creative as they want.
If you don't want to deal with the mess of the paint, you can put tubs of stickers and gems out for them to use instead.
25. Giant Leaf Pile Jump
Simple but always a hit, rake up a massive pile of colorful autumn leaves.
Then, let the kids experience the joy of jumping into them!
They can then help rake up a new pile for the next group of children.
26. Farmer's Dress-Up Relay
This is a really fun game and it can be made even funnier if you can get parents and teachers involved.
To play, divide the participants into teams and provide them with over-sized flannel shirts, straw hats, and bandanas.
Each team member must race to put on the farmer attire before tagging the next teammate.
27. Festive Fall Bingo
Bingo is one of the easiest and most traditional fall festival ideas for school.
After all, it is easy to play and doesn't cost anything to set up.
Create custom fall-themed bingo cards with pictures of pumpkins, leaves, scarecrows, and other autumn symbols.
Host a bingo session with fun prizes for the lucky winners, and the kids will be hooked on this seasonal twist of a classic game.
28. Fall Carnival Parade
Another fun idea is to plan a fall parade through the festival.
You can invite students to decorate wagons or strollers to make parade "floats".
You will be amazed at the creativity and fun ideas people come up with!
29. Pumpkin Weight Guessing Game
Challenge attendees to guess the weight of a giant pumpkin. Place a big pumpkin on a scale, and let participants write down their estimates.
At the end of the festival, announce the winner who came closest to the actual weight.
30. Fall Festival Olympics
Host a Fall Festival Olympics with various fun and friendly competitions.
Include events like apple toss, pumpkin tower building, sack races, and an acorn spoon relay.
Award participants with ribbons or medals to commemorate their athletic achievements.
31. Playdough Station
If you are looking for fall festival activities for younger kids, how about setting up some tables with homemade pumpkin spice playdough?
You can put out bins of cookie cutters, plastic forks and knives and other fall accessories such as acorns and twigs.
32. Pumpkin Bread Cake Walk
Cake walks are a staple activity at many fundraisers but for this occasion, you want to add a fun fall twist!
Here's how to set this game up:
First you will need an assortment of fall breads or cakes. Display them on a table.
Next, using orange construction paper, cut out large pumpkins to act as stepping stones for your walkers.
Add numbers to each pumpkin then lay them out on a circle on the floor.
How to play:
Put pieces of paper with the numbers you have written on the pumpkins in a hat or box.
Play some fall themed music as your participants walk around on the stepping stones.
When the music stops, pick a number out of the hat.
The person standing on the corresponding pumpkin wins the cake of their choice!
33. Sensory Fun
This can get a bit messy but it's lots of fun!
You can create fall sensory bins using dried corn, colored rice or even the innards of a pumpkin.
Provide scoops and toys to make it even more fun.
34. Make Corn Shakers
If you want a fun fall festival craft for the kids, making corn shakers is so easy and cheap to out together.
All you need are some empty plastic water bottles and some dried corn.
You can make it more fun by adding in little gems or stones.
Just add the small items to the bottles and tape the lid shut. Then enjoy your homemade maracas.
35. Pumpkin Pong
We all know beer pong and of course, it won't be on top of your list of fall festival ideas for school.
But how about making it PG with a game of pumpkin pong?
First of all, you will need some carved and hollowed out pumpkins in various sizes.
Lay them out on a table and give each player 3 ping pong balls.
The goal is to get the ping pong balls into a pumpkin.
You can award prizes for successfully throwing 1, 2 or 3 balls into the pumpkin!
36. Chilli Cook-Off
With steaming cauldrons and bubbling pots full of chilli, this competition will bring out the best amateur chefs from within the school community.
Assemble a panel of judges, including teachers, parents, and local celebrities to take on the delicious task of sampling each entry.
37. Pumpkin Ring Toss
Here's another classic game with an autumn twist for your festival.
All you need are a bunch of hula hoops and some pumpkins laid out on the grass for a quick and easy game for the whole family.
38. Fill The Fall Bucket Relay
Another fun relay race idea is to place two buckets at the either end of the field.
Fill one with dried corn or lentils. Give each player a large ladle or scoop.
The idea of the game is to see which team and can fill the empty bucket the fastest using the corn in the filled bucket.
39. Pumpkin Curling
Are you familiar with the traditional Scottish game of curling?
It is played on ice and involves using a broom to get sliding stones as close to a target as possible.
You can play a fall themed mix of curling and field hockey using a field and some small pumpkins.
Place a net at one end of your field and have your teams try and get the pumpkin into the goal by sweeping it along the grass!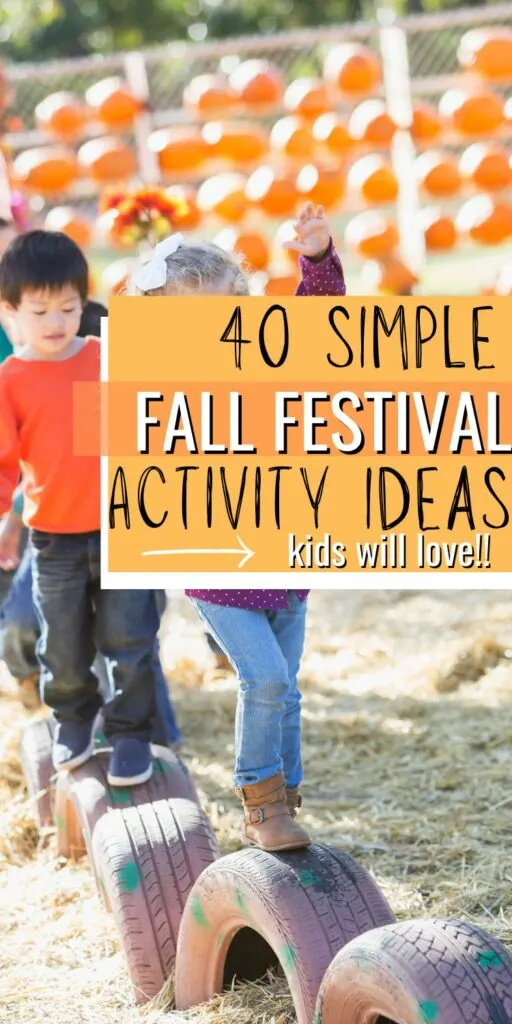 Fall Festival Ideas For School: Final Thoughts
Whew, we've reached the end of our list of 40 fantastic fall festival ideas for schools!
With these fun and engaging activities, your school's fall festival is guaranteed to be a smashing success.