Should dads get push gifts? Although you could technically argue that he doesn't do any actual pushing, the hottest new trend is to get push presents for dad as well as the new mom.
Traditionally, push presents are a special gift for mom to reward her for her hard work during labour.
Although giving a new mom a great push present is most certainly an awesome idea, in this post we have some of the best present ideas for the expectant dad in your life.
Whether you are looking for a sentimental gift or are looking for something more practical, we have you covered.
Keep reading for the best push presents for a new father.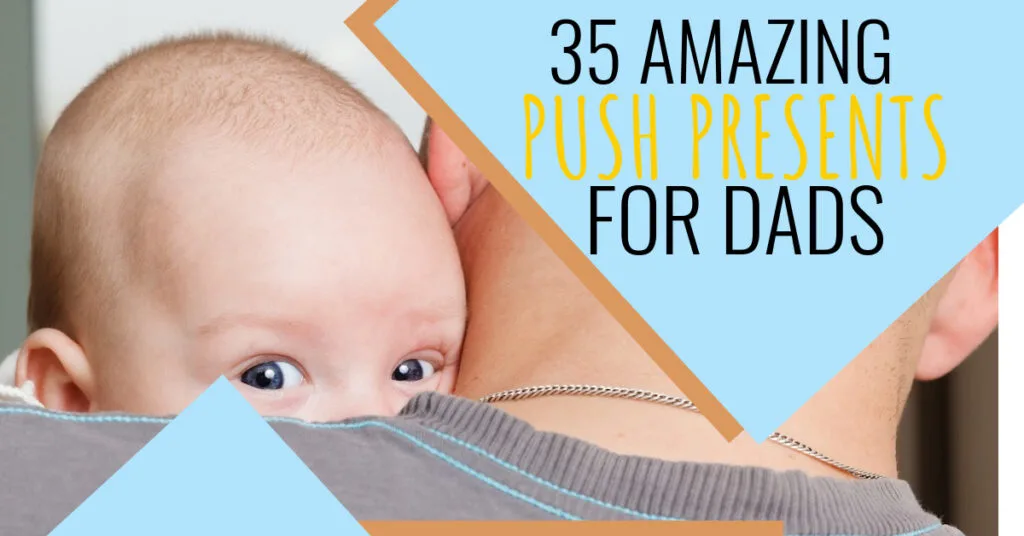 This post contains affiliate links. Please read my Disclosure for more information
MORE PREGNANCY TIPS FOR DADS
5 Best Pregnancy Apps For Dads
25 Perfect Daddy Daughter Date Ideas
Why Give A Dad A Push Gift?
We all celebrate new mamas after baby is born but it can be fun to give a first time dad a thoughtful gift too.
Giving dad a push present is a way to say thank you for all his support during the labour and birth of the new baby.
After all, long gone are the days when dad just had to pace the corridors waiting for the nurse to come out with an update. Now they are in the delivery room with you anxiously awaiting your gorgeous baby.
Modern dads are more involved with the birth experience than ever, from attending prenatal classes to learning breathing techniques and giving back rubs during labour.
Plus, they will sharing in the late nights and
A lot of experts actually think that push presents for dad are a really great way to make sure dad doesn't feel left out in the whirlwind that is the first few days of newborn life.
Even though I think we can all agree that mom does the heavy lifting when it comes to childbirth, why not appreciate everyone and say thanks to dad with one of the great gift ideas below.
35 Push Presents For Dad To Show Your Appreciation
There is no more special occasion than the birth of a newborn baby so giving the perfect gift is a great idea. I've separated the push gifts for dads below into a few different categories:
Practical gift ideas: Useful "dad" versions for must-have baby gear
New Dad gifts
Special gifts that men love
Depending on the kind of push gift you are going for, you will find tons of cool options below, from the useful to the frivolous but fun!
Dad Versions of Baby Gear
A lot of dads complain that baby items such as carriers, diaper bags and other paraphenalia are just too "girly" or embarrassing to carry around. Or maybe that's just a great excuse.
Either way, why not get him a really manly version of the classics so he can take baby around town in style.
Getting dad his own diaper bag is a great option if you want a practical push gift. This cool military style diaper bag is made by a Veteran owned company based out of San Diego. This durable diaper bag is built tough with tons of pockets and room for all of baby's essentials.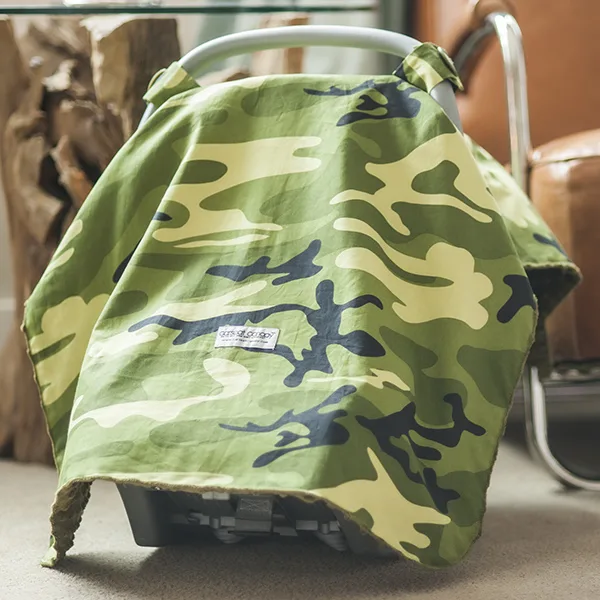 How cute is this carseat cover? The inside lining is a plush slinky material that is super soft for baby. You can even have it embroidered with baby's name
The great news about this gift is that you can get it for free!
Use promo code SEASIDE100 to get $50 off a Carseat Canopy.com. That will get you this camo version for free (just pay shipping and handling).
Forget flimsy little strollers, the BOB Revolution is hardy and perfect for jogging, hiking and even pushing through ice and snow. This is a great gift idea for a baby shower if you can have a few people pool their money together.
I went through a bunch of strollers with my two kids but the BOB was by far my best purchase, it is easy to push with one hand and will go through any mud or terrain you decide to explore.
A baby carrier is a great for dad to get involved with holding baby on walks or even around the house.
The Ergobaby carrier is one of the bestselling baby carriers because you can use it in a ton of positions plus it is strong enough for baby's up to 45 pounds.
One thing that new parents always struggle with is carrying all their essentials plus baby and the baby gear.
This handy water bottle takes care of all that with a secret compartment that holds keys, money, cards and even Airpods. Plus it will fit in the stroller caddy.
This t-shirt gives access to Dad's chest and allows for skin to skin bonding for baby and dad in the first few months.
I remember my husband taking his shirt off to hold the baby so he could do skin to skin so this is a much better option.
It is one of my favorite push presents for dad because they can use it so much and it makes baby-father bonding so easy.
Make bedtime stories extra special with a cute daddy and me board book like this one that tells the story of Little Bear and Daddy Bear sharing a special day together exploring the woods.
One of my friends owns this hand muff and I was so envious when I saw it.
You simply strap it to the handlebars of your stroller and it gives you a cozy place to put your hands in cold weather. Plus you can easily see your phone using the clear pocket – ingenious!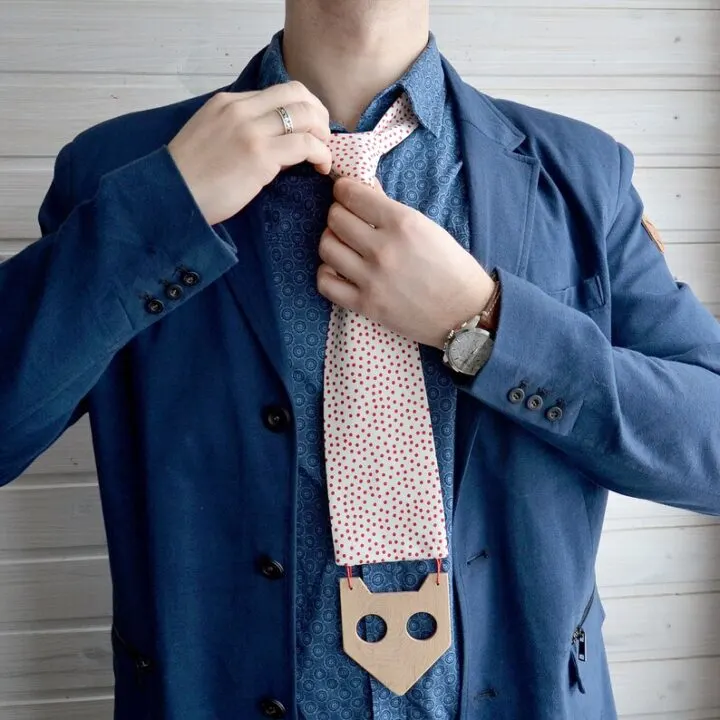 If dad wears a suit and tie to the office, then this is one of the most unique push presents for dad that I have found.
It's a regular tie but with a wooden teether at the end so that when you are holding baby, he or she has something to chew on and doesn't ruin your tie!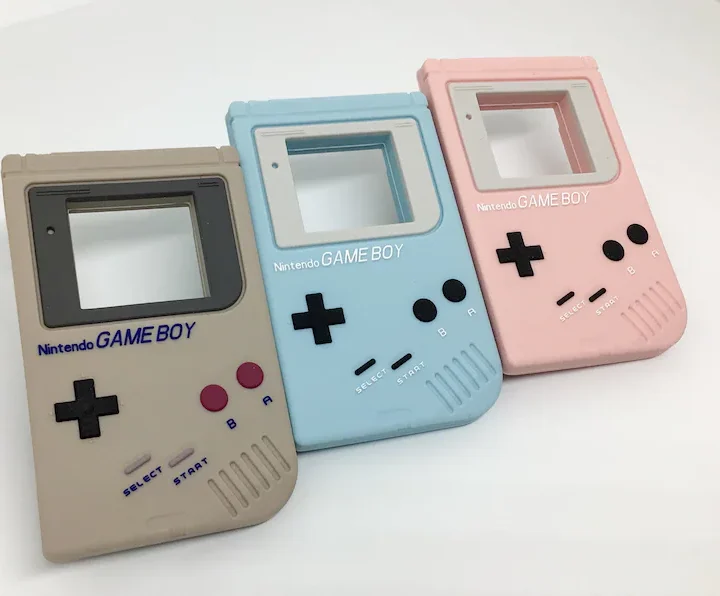 Talking of teethers, here is another one that dad will love to carry around in his manly diaper bag.
This Gameboy inspired teether is made from food grade silicone and is 100% non-toxic.
I actually had this rattle for my first baby and it was so funny watching her shake it around.
New Dad Gifts
Another idea for cute push presents for dad is something that celebrates his new role as a father.
Here are some of the best options including some funny ideas for the joker in the family.
Just what dad needs after a long day of changing diapers – a wee dram of whiskey in his new daddy glass!
These cute matching outfits are perfect for a gamer dad and the little gamer to be.
This fun gift will help make the newborn days easier by deciding for you who will be next to change the diaper or do bathtime.
Filled with men's care products and baby essentials, Daddy will have everything he needs to rock his new role as the handy dad, the manly dad, and the new dad with this gift box.
There is no doubt that one thing that a new parent need is a constant supply of coffee or tea to keep them going after a sleepless night. If the new dad is a coffee drinker, why not get him a travel coffee mug like this one?
If you want to go even further, get him a new coffee maker and a monthly coffee subscription to keep him caffeinated.
Frame a special moment by giving dad a simple gift like a framed photo to put on his desk when he goes back to work.
Make changing diapers more fun with the Daddy's Diaper Duty device. The handy tool belt contains diapers and wipes, plastic tongs, safety glasses and travel-sized baby products. It is sure to make those late-night feedings easier!
Having a newborn often means spending a lot more time at home so why not get comfy with these cozy slippers? They make the perfect push gift for a new dad.
Give dad the gift of keeping baby close with this genuine leather photo keychain.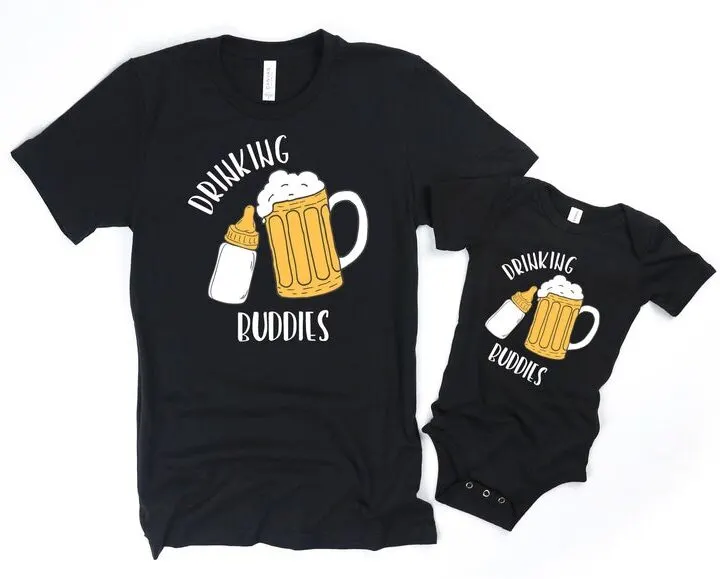 These matching outfits get great reviews from new dads who want to match their baby with a bit of humour.
Start him early with this dad joke book that is sure to keep him and the entire family entertained.
Newspaper from The Day Of Baby's Birth
This is a great keepsake that your child will love looking at when they get older.
My tip is to ask a family member to get the day's newspaper for you because there is a good chance you won't remember in the chaos of giving birth.
An indispensable survival manual for men entering the trenches of fatherhood, Be Prepared is loaded with one-of-a-kind insights, MacGyver-esque tips and tricks including how.to change a baby at a sports event and how to stay awake at work.
If your dad to be has a sweet tooth the how about this care package of treats, specially made for him?
Special Gifts That Men Love
Traditionally a push present for a woman is something special that she has either wanted for a long time or that costs a lot of money. Things like a fancy new purse or diamond tennis bracelet are popular push presents.
If you want to go that route for dad, here are some special ideas that he will love.
Sure, we can all get the time from our phones but a nice engraved watch is an excellent push present that never goes out of style. Make it even more special by getting a pocket watch engraved with your child's name.
This 12 in 1 Emergency Survival Kit contains: Pocket bellow,Wire saw, Water Bottle Clip, Emergency Blanket, Flint stone Scraper, Flashlight, Credit Card, Multi-use Spoon Fork, and Waterproof Box and is perfect for any man who fancies himself a survivalist.
This is a fantastic gift for new parents who have aching backs and necks after a long day holding a newborn. This heated pad is perfect for getting rid of back pain while you hold baby.
My husband has these shower speakers and he loves to use them when he wants some alone time in the shower.
This beautiful glass whiskey decanter comes with two glasses that are etches with the World map.
Just read the reviews to see how useful this tool with a bright LED light is. It gets amazing reviews.
AirPods area great gift for a new dad. He can use the on walks with baby in the stroller or hit the gym in his free time. Make it even special by adding an audible subscription so he can listen to his favorite podcasts while he looks after baby.
This handy docking station has room for all of dad's essentials. It is perfect for keeping the nursing/baby feeding station organized.
A good quality leather wallet always makes a great gift. This one is made from high quality Argentinian leather and has 12 card slots to fit everything in.
Even the man who has everything needs a new leather belt every now and again.
Push Presents For Dad – FAQs
When are push presents given?
Of course, while you can give a push gift to dad whenever you want, they are typically given right after baby has been born. You can give it while you are still at the hospital or when you get home.
What is a good push present for dad?
The list above has hopefully given you a bunch of fun ideas for the perfect push present for the father to be in your life.
You know him best so consider the kinds of things he likes when choosing the perfect push present for him!
If you want more gift ideas for new dads, make sure to check my 10 Unique Gifts For New Dads.
More Fun Gift Ideas
The Best Gifts For Hipster Guys
Christmas Gifts For Guys Who Love Football