Most of us are more familiar with peppermint but recently there have been more and more research showing the benefits of spearmint for PCOS.
Spearmint tastes great, is easy and cheap to obtain and can help with a myriad of issues that are caused by an hormone imbalance.
It has been used for centuries in countries like Iran for fertility issues and PCOS and now the Western World is taking notice.
If you are looking for a natural way to take control of your PCOS and lessen some of your symptoms, consider giving spearmint a try (and make sure to download my free ebook PCOS diet and meal planner).
This post may contain affiliate links. Please read my Disclosure for more information.
RELATED POSTS
What Is Spearmint?
Spearmint, or Mentha spicata, is a perennial plant originally from Europe and Asia. Its name comes from the distinctive spear-shaped leaves.
Unlike peppermint, spearmint does not include much menthol so there is no "cold" sensation associated with spearmint.
It is most commonly used in cooking and drinks such as mojitos.
Spearmint has many health benefits and can be taken as a tea or food. In addition, spearmint essential oil is also very popular for its hormone balancing properties.
How Does Spearmint Tea Help With PCOS?
If you want to start using spearmint for PCOS, a nice cup of tea is a great place to start. You can easily buy spearmint tea online.
Ideally you want to buy organic spearmint tea bags to make sure no unnecessary chemicals are entering your system.
Spearmint has anti-androgen properties that can significantly decreases testosterone level and hirsutism in women with PCOS.
Using spearmint for PCOS may help to alleviate the following symptoms that are caused by a hormone balance:
Excess facial hair
Hormonal acne
Irregular periods
Weight control (proven in rats in studies)
Testosterone levels
Number of follicles during cycle
Ovarian cysts
Premenstrual pain and cramps
More PCOS Tips
50 Delicious PCOS Breakfast Ideas
Does Spearmint Tea Regulate Periods?
By balancing your hormones, spearmint tea can help to regulate your periods and make pregnancy easier to obtain by giving you more opportunities for ovulation.
How long does spearmint tea take to work?
As with many things fertility (diet changes being one), it takes around 90 days/3 months for the full hormone balancing benefits of spearmint to be effective.
You should see a difference after a few weeks but you will need a full hormonal cycle to really see the optimal results
How To Use Spearmint Essential Oil For PCOS
If you don't like spearmint tea or just want to try something else, spearmint oil is a great alternative.
If you are interested in oils in general, make sure to check out this list of the best essential oils for PCOS.
There are a few options for using spearmint oil for PCOS
Topically
Combine pure spearmint oil with a carrier oil such as fractionated coconut oil. Try 5 drops of spearmint oil to 2 teaspoons of carrier to start.
You can add this mixture to a rollerball and apply it to your stomach and wrists. An added benefit is that you will smell amazing!
Diffuser
If you have an essential oil diffuser, add 20 drops of spearmint oil to distilled water to create a lovely smell in your home that can also help your PCOS symptoms!
Your Beauty Routine
You can also consider adding spearmint essential oil to your regular routine. Some ideas include:
Make a body scrub with sugar, coconut oil and spearmint oil. This is great for the shower.
Add a few drops of spearmint oil to your bath. The steam will create a diffuser effect.
Add some spearmint oil to your regular unscented body moisturizer.
How Much Spearmint Should I take For PCOS?
2 cups of spearmint tea a day is ideal. Combine the tea with some spearmint essential oil in a diffuser or roller ball for the best results.
FREE Fertility Resources (Ebooks, Checklists and more)
Click the links to instantly download the following useful resources, at no cost!
More Fertility Tips
How To Make A DIY Fertility Essential Oil Blend
5 Herbal Teas To Increase Fertility Naturally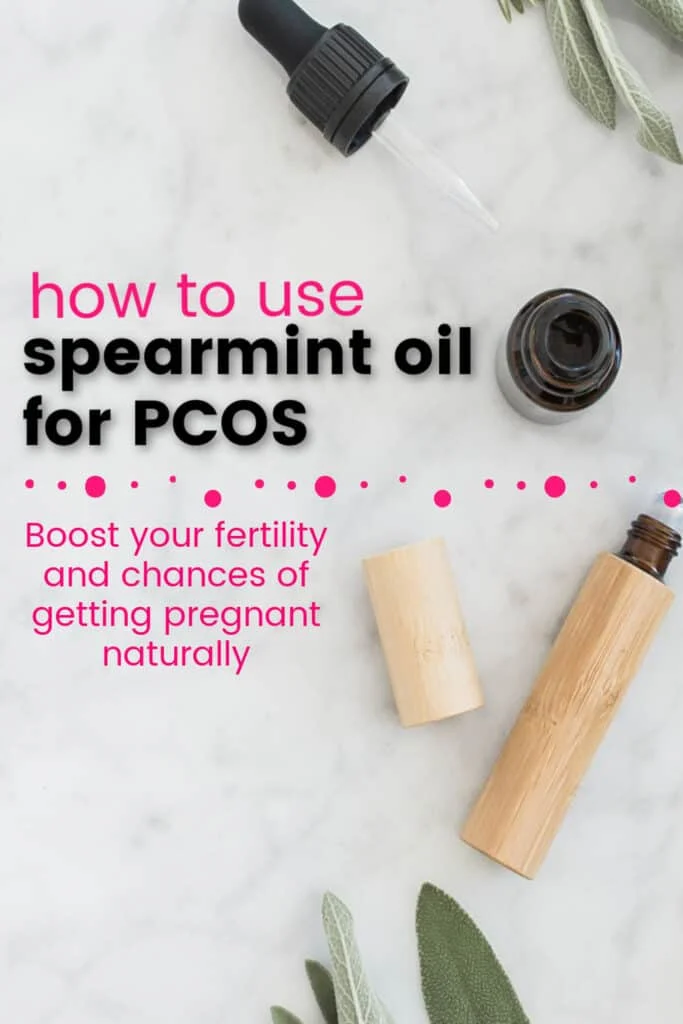 Free 14 Day Fertility Meal Plan!
Boost your fertility with this 14 day kick start program
Sign up for instant access to this free plan & more fertility tips