For years people have used Essential Oils For Fertility. By using the right blend of oils for your needs, you can balance your hormones, regulate your cycles and ease the stress that comes with infertility.
Although you can buy expensive kits, it's actually really easy to make your own DIY fertility essential oil blend with some simple supplies from Amazon.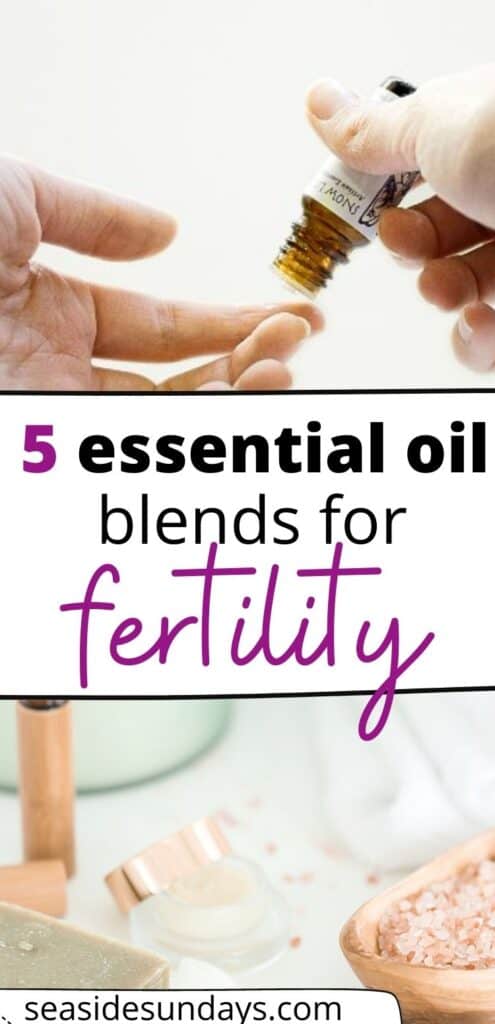 This article contains affiliate links. Please read my Disclosure for more information.
What are essential oils?
Although they may seem like a new craze, essential oils have been around for years.
They are the natural aromatic compounds found in nature. They can come from the flowers, stems, bark, or leaves of plant material. There are many many different oils to choose from and some can really help to balance hormones and improve fertility.
Which Essential Oils Are Best For A Fertility Blend?
The essential oils you choose to add to your rollerball or diffuser really depend on your fertility diagnosis.
Below I have included 5 common fertility problems and the best oils for each one.
For information on the uses of each oil, please visit my Essential Oils For Fertility homepage.
Click here for an depth look at using powerhouse Frankincense For Fertility
Supplies To Make Your Own Fertility Rollerball
Rollerball starter kit – this one from Amazon is under $10 and comes with labels and real glass amber bottles to protect the oils from the sun.
Carrier oil of your choice
Here are 3 easy essential oil recipes to get you started:
How To Mix Essential Oils For Fertility
There are two things you need to create the perfect DIY fertility blend. A carrier oil and the essential oils of your choice.
Most essential oils that you will use for fertility need to be diluted first using a carrier oil.
Why do you dilute essential oils?
Reduce skin sensitivity
Help the oil absorb better
NOT all oils need to be diluted. There are gentle oils like Tea Tree, Lavender or Frankincense that can be used neat.
However, some essential oils that are hot, for example: Oregano or Cinnamon, and need to be diluted more heavily than others. There are other oils that can feel icy hot when applied topically such as peppermint.
Choosing A Carrier Oil For Your Fertility Blend
Good carrier oils come from plants and are cold-pressed. You can buy them at health food stores and even your local grocery store.
The most popular carrier oil is fractionated coconut oil. This one by Plant Therapy is the bestseller on Amazon.
Other options include (click the link to view options at different price points)
You might be wondering if the olive oil in your kitchen would make a good carrier oil?
Olive oil works well as a carrier oil and is extremely moisturizing. It's also pretty handy to use as most of us have a bottle at home.
The only downside is that olive oil has a strong smell that can interfere with the essential oils you use in your fertility mix.
Using Your DIY Fertility Essential Oil Blend
Depending on your needs, you can choose to use your essential oil blend in one of 3 ways:
1.Aromatic
The most common method for using essential oils is a diffuser. This not only makes your house smell amazing but it allows you to inhale the essential oils easily. The best-selling diffuser on Amazon is this gorgeous wood-look one.
2. Internal
You can mix your essential oil blend with water for a refreshing drink or place a drop or two under your tongue.
3. Topical
Using a rollerball you can apply the blend directly onto your wrists or other pressure points. This is the most common method of using essential oils to combat infertility.
5 Fertility Essential Oil Blends To Make At Home
1. Blend to balance hormones
If you need some help balancing your hormones, try this combination:
I recommend using fractionated coconut oil as your carrier oil for this blend as it can also help balance hormones.
2.Essential Oil Recipe For Male Fertility
This blend can help naturally boost male fertility.
To increase sperm motility and testosterone levels, you can make up a roller ball of the following oils and apply them at night or first thing in the morning to the wrists.
3. DIY Essential Oil Blend For Regulating Your Cycle
Lavender is the star of the show when it comes to regulating your menstrual cycle. As irregular cycles are often related to a hormone imbalance, you can alternate this blend with the hormone balancing recipe.
4. Fertility Blend For PCOS
If you are struggling with fertility and have been diagnosed with PCOS, there are quite a lot of things you can do to naturally increase your chances of getting pregnant.
The oils below can help regulate your testosterone levels and balance out your hormones to boost your fertility.
Along with following a PCOS diet plan, you can try this essential oil blend:
5. Essential Oil Recipe For Low Ovarian Reserve
Although no essential oil can give you more eggs, this blend may help to increase your egg quality and improve your chances of implantation by toning the uterus.
Now you can make your own DIY fertility essential oil blend!
You can play around with different combinations of the essential oils for fertility to create your own special blends.
As a general rule, use 6 drops of oil for every 1 TB of carrier oil and you will be set!
FREE Fertility Resources (Ebooks, Checklists and more)
Click the links to instantly download the following useful resources, at no cost!
Get A Free 5 Day Fertility Meal Plan!
Boost your fertility with this 5 day kick start program
Sign up below for instant access to this free plan & more fertility tips
Like These Essential Oil Recipes For Fertility? Pin them!