If you live in Canada and want to make a bit of extra money from home, online surveys are a great way to pay for the holidays or those little extras. The list below details 11 free paid online survey sites for Canadians that will pay you for giving your opinion on any number of topics from social issues to home improvement projects.
In the US?  Here are the best survey sites in the USA.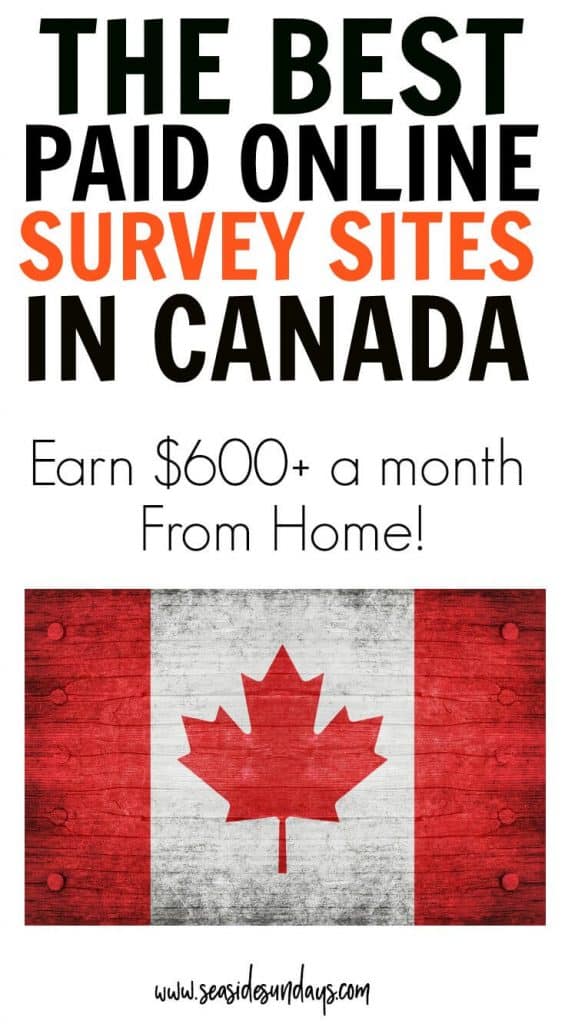 This page contains affiliate links meaning I earn a commission if you use those links. I only recommend brands I use and trust.
How Much Do Online Survey Sites Pay?
While you can definitely make money taking surveys, this isn't a get rich quick scheme. Realistically, you should be able to earn at least $100-800 a month depending on how much time you spend working the websites below.
You can also earn money online by watching videos or playing computer games with some of the survey sites like Swagbucks.
Check out my list of 80+ Ways To Make Money That You Can Start Today for even more work at home ideas that will pay you cash this week! 
How Will I Get Paid For Taking Surveys?
The majority of the top survey sites for Canadians offer a points system that you can then redeem for gift cards or PayPal cash.
Three of the sites do pay directly in cash (by PayPal, so make sure you have an account):
Are these Survey Sites Legitimate?
The websites that pay for surveys that I have listed below are legit and definitely not a scam.
Are there scam survey sites out there? Absolutely. That's why I have vetted and listed the ones below that I know are honest, reputable and worth using.
The Best Paid Online Survey Sites For Canadians: 
Are free to use Never ever pay to join an online survey site, these sites should be paying you for your opinions.
Don't ask you to provide your credit card details. They don't need them.
Pay on time.
RELATED: The Best Cash Back Shopping Apps For Canadians
READ NOW: 80+ Ways To Make Money That You Can Start Today
How To Make Even More Money
A lot of the free paid survey sites below offer welcome bonuses which mean you could make up to $25 just for signing up for these sites!
The sites offering bonuses are: 
Swagbucks.com – $10 Bonus
Daily Rewards – $5 Bonus
Fusion Cash – $5 Bonus
iSurvey World – $5 Bonus
These sites are all open to Canadians although some of them may pay in USD (not a bad thing with the exchange rate as it is!).
The sites below are my favourite survey sites that actually pay Canadians to take surveys and perform simple tasks like watch videos or play games.
I recommend joining as many as you can to maximize your earnings and make sure you have a steady stream of surveys to answer!
If you shop online, make sure to combine the gift cards you earn on these survey sites with cash back apps and sites to make money on your free money!
My favourite cash back site is Ebates and I have made over $400 in FREE money since I joined.
The Best Paid Online Survey Sites For Canadians
Swagbucks.com is one of best paying online sites in Canada and is my personal favorite. I regularly earn $100-200 a month just from Swagbucks.  They have a ton of surveys available every day through the "Answer" or "Discover" (check both) sections of their website.
There is currently a $10 welcome bonus for joining Swagbucks which will get you well on your way to cashing out for a gift card!
If you complete other tasks such as watching videos, clicking through to promotional sites or playing games, you can earn even more Swagbucks.
Cashing Out  – Cash out as low as 300 sb for a $3 gift card.
Promotions: You get a reduced rate on the first Amazon.ca gift card that you order each month (2200 SBs instead of 2500Sbs for a $25 gift card).
Mygiftcardsplus.ca – Purchase giftcards from Swagbucks partner and earn Swagbucks that you can then redeem for even more gift cards.
Monthly Challenges – thee are periodic "special events" that can earn you even more points such as SWAGO (similar to Bingo where you complete tasks for points), Collectors bills and Team challenges.
Maru Voice is a new addition to this list as it only just launched in April 2018. It was formerly operating as Angus Reid which is still going strong as a separate entity (see further down the list).
High earning potential – Maru Voice markets itself on being one of the highest paying survey sites for Canadians
Earn points that you can redeem for Visa, Amazon or other gift cards.
Minimum redemption is $50
iSay Surveys let you earn points for products and gift cards. It's one of the larger survey sites for Canadians and there are normally a lot of surveys available which means tons of earning potential.
Notifications – You will receive an email whenever there is a survey available for you.
Loyalty Bonus -Each time you complete a certain number of surveys, iSay will reward you with additional i-Say points.
Global Test Market is one of the top  survey sites in Canada and they rewarded CAD $40 Million+ to their worldwide members in 2014. They have a lot of interesting surveys to complete, from local interest (politics, social issues to product testing).
Cashing Out – Redeem your points for gift cards to Amazon, Boston Pizza, Starbucks or PayPal cash.
Earning Potential – Earn up to $5 per survey
Variety – Surveys topics may include automotive, media, social, food and more.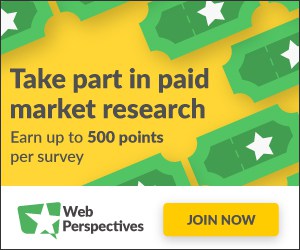 I like Web Perspectives because they have a really good range of rewards for Canadian survey takers and are owned by Research Now, a global leader in digital panel research.
Notifications -Surveys will be sent to you via an email or will appear on your member dashboard.
Earning Points -Surveys are usually paid between 100 points and 500 points
Rewards – You can choose from a bunch of great rewards including gift cards to stores like Indigo or Hudson's Bay and even donations to the Canadian Cancer Society.


The Harris Poll is one of the oldest and most prestigious polls in the world. They used to conduct surveys by telephone and in person before the days of the internet.
Interesting surveys -Help influence important decision makers in government, corporations, and non-profit organizations with your unique insights.
Earning Potential – earn points that you can redeem for Starbucks, Amazon and other gift cards
Daily Rewards  is one of the multi-offer sites like Swagbucks.  It advertises itself as Canada's leading online rewards centre and offers a ton of really good offers. They also pay in cash rather than points/gift cards like most of the other companies.
Welcome bonus – Earn $5 just for signing up with Daily Rewards Canada
Rewards – Earn Cash (not gift cards)
Earning Opportunities – earn money for taking surveys, reading emails, playing games and watching videos
VIP Voice Canada is one of the largest bank of paid online surveys for Canadians. You can take surveys to earn points that you can redeem for prizes in their online bidding program.
I've used VIP Voice for a long time and there are a ton of opportunities to earn points.
Welcome Bonus – Earn triple points for your first survey
Rewards Structure -VIP Voice features a tiered-rewards program with 5 levels. To move up to higher levels, simply complete more VIP Voice surveys.
Points Redemption -Each point is worth one entry into a SweepLand sweepstakes or one bid into a BidLand auction where you can bid on prizes.
Fusion Cash works very similarly to Swagbucks, you complete surveys, try offers and watch videos for cash.
The main difference is that Fusion Cash pays cash and not points that you convert into cash or cards.
Sign up Bonus – Receive $5 for your initial sign up.
Payment in cash -You must have a valid PayPal account to use Fusion Cash and you will be paid in US Dollars
iSurvey World is one of my favourite survey sites. Like the others, you complete surveys for points which you redeem for gift cards. I find their surveys interesting and easy to navigate.
Sign up Bonus – Get $5 just for signing up
Cash payments – all redemptions are made in PayPal cash.
Survey Junkie has over 3 million members and is one of the larger online survey sites out there.  You earn points for taking their surveys which you can then redeem.
Point Redemption – 1000 points = US $10 which is the minimum required to cash out
Rewards – At the moment, Canadian members can only redeem their points for PayPal cash (US dollar amounts).
PineCone  is likely the best survey site for Canadians  if you are not interested in doing anything other than answer questions. Pinecone offers free samples for testing as well as paid surveys.  You can redeem your points for merchandise or cash (PayPal or prepaid visa).
High earning potential – Pinecone is one of the most lucrative survey sites for Canadians
Exclusivity – Not everyone is accepted into Pinecone research making it a very-much sought after club.
Prescreening – prescreening for the surveys means there is less chance of you being rejected after spending time answering the demographic questions
Angus Reid Forum is a community of adults living in Canada, who voice their opinion on a variety of topics that matter to Canadians. Members provide opinions, and then learn what the majority and the minority believe. The Chairman of Angus Reid is a Canadian (called Angus Reid) who has spent the last four decades asking people what they think on social issues. I love that this is a Canadian company run by the original founder.
Short Surveys – All of the surveys on Angus Reid are 15 minutes or shorter.
Redemption – Redeem your points for gift cards at the $25 level
Survey Frequency – you can expect to receive at least one survey opportunity a month, minimum.
If you liked this list of the best paid online survey sites for Canadians, you might also like:
The Best Cash Back Shopping Apps for Canadians
The Ultimate List of Baby Freebies In Canada
31 Clever Ways to Save Money And Live Better
FREE 5 Day Course - Start a Profitable Blog
Over the next 5 days, we will take your blog from inception to money making. We will look at how you can get brands to pay you to blog, make money from other people's products and discuss whether you should put ads on your site.
Fill out the form below to join the 5 day masterclass and subscribe to my newsletter packed with blogging tips.