Did you know that the Amazon Baby Registry Canada is one of the best places to register for your baby shower gifts?
Read on for all the details and why I love Amazon's Baby gift registry. Plus how to score your free gift!
Finding out you are pregnant is such a fun time, not only are you creating a new life and a new chapter but you will spend the next 9 months being celebrated and preparing for your baby to arrive.
One of the most fun moments of pregnancy is your baby shower (s). Baby showers are a fun celebration of your pregnancy and also an opportunity for you to be showered with gifts for baby!
Whether you are having a traditional shower before your baby is born or choose to have a a sip and see – a baby shower after baby is born, you will need to register for gifts to make sure you get what you need and not a bunch of duplicates.
Registering for the right things can make a real different in preparing financially for baby and having your baby on a budget.
This post contains affiliate links. Please read my Disclosure for more information.
RELATED POSTS
The Ultimate Guide To Baby Gear For Minimalists
Amazon Baby Registry Canada Review
Once you find out you are pregnant you should start thinking about what you will need for your baby. You might be getting a bunch of hand-me-downs so not need too much but there is sure to be somethings that you do need.
A baby registry is a great way to create your list of what you need and to keep track of any gifts you receive. I personally love the Amazon Baby Registry because it allows friends and family who live overseas or far away to buy you a gift easily.
How does Amazon Baby Registry work?
It's so simple to start your Amazon baby registry in Canada. I'm going to assume you already have an Amazon account, but if not, it's time to create one at Amazon.ca and then head to the baby registry page.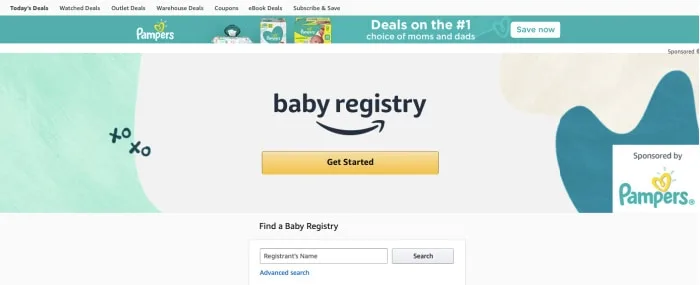 Click the Get Started Button then fill out the info on the next page. You can choose to add Amazon gift cards to your registry which is a great way to get money for diapers and other necessities.
Once you have filled out the form, your Amazon Baby Registry Canada is ready! So easy!
How To Add Things to Your Amazon Baby Registry
It's so simple! Just do a search for whatever you want just like you normally would and then click the "add to baby registry" button.
See below for where to find the button, oh and by the way, those pacifiers are awesome and so cute!
Need some ideas on what to register for? Check out these guides:
5 Newborn Baby Essentials To Make Mom's Life Easier
The Ultimate Guide To Baby Gear For Minimalists
50 Newborn Baby Tips and Tricks (From Real Moms!)
How To See Who Bought Your Gift On The Amazon Baby Registry?
Go to your baby registry home and look at the menu on the left-hand side.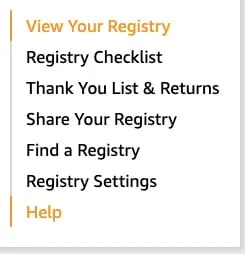 Click on the link that says "Thank You List and Returns". You will be taken to a list of everything that has been bought for you and who bought it so you can send out thank you lists and manage any returns you need to do.
Top 10 Reasons Why I love the Amazon Baby Registry Canada
Although there are a few different baby registries, I love the one on Amazon for some obvious reasons – almost everyone uses Amazon so it's accessible and easy to manage.
The prices are amazing and you can get free delivery, sometimes the same day if you are an Amazon Prime member.
( you can get a 30 day free trial of Amazon Prime here).
Other Amazing Benefits with the Amazon Baby Registry
Completion Discount: 15% off for Prime members and 10% off for non-Prime members across Baby on Amazon.ca

Amazon often has the best prices for baby items, plus you can save even more with subscribe and save.

Easily add items from ANY website for one easy to manage registry using Amazon Assistant

Simple to use mobile registry via the Amazon app.

Easy 45-Day Returns.

Amazon.ca has millions of products to fill your house with everything you need for your baby.

Prime members get a FREE welcome gift when they spend $25 and add 20 items to their registry.

Easily share your baby registry by email or social media

Your baby registry is easy for everyone to find on Amazon.ca (see below for details)

Free Samples: once you have created your registry, you will be eligible for free baby samples.
Want even more free baby samples?
How do I get an Amazon Baby Registry discount?
The registry-completion discount is 10% normally, but 15% if you're a Prime member.
This means that you will get a discount on anything you add to your registry that is not bought for you. Take advantage and add anything you think you might want to buy – diapers, bottles, breast pump etc.
You're eligible for this discount 60 days prior to the arrival date you've indicated on your registry and at least 14 days after your registry was created.
A message will appear at the top of your registry when you're eligible. The message takes you to the Completion Discount view of your registry.
The discount can be used on a single order up to a maximum of $500.00, within 180 days of your event. This means you can only use the discount one time to make sure to add everything you want to your order.
How Do I Find Someone's Amazon baby registry in Canada?
First of all, when you are setting up your baby registry, make sure to choose to make your registry public, so anyone can find it by simply searching your name.
You could also choose to make it visible to only the select people who you've shared the link with.
They can then enter your information and will be taken to your registry and the items you have selected.
More Tips For New Moms
Tips For Preparing Financially For Baby
How To Have A Baby On A Budget
51 Best Pregnancy Movies To Watch When You're Expecting