Whether you are planning a family dinner or running a Sunday School event, at this time of year lots of us are searching for cute Easter snacks for preschoolers and little kids. Maybe you are even hosting your own Easter playdate and are looking for some fun treat ideas.
Even if complicated baking is not your thing, in the list below you will even find some cute Easter treats for school as well as some easy (and healthy!) treats that your kids can make themselves.
The sugar-free/fruit options I've included are still Easter themed and fun. Some of the recipes are also gluten
MORE FUN EASTER IDEAS
How to make a cute Easter Egg Wreath
35 Creative Easter Basket Ideas For Toddlers
Easter Snacks For Preschoolers
If you are looking for the mother of all cute Easter treats for school parties or snacks, these Easter Peeps top the list! They would really bring the wow! factor to any Easter gathering and are surprising easy to make.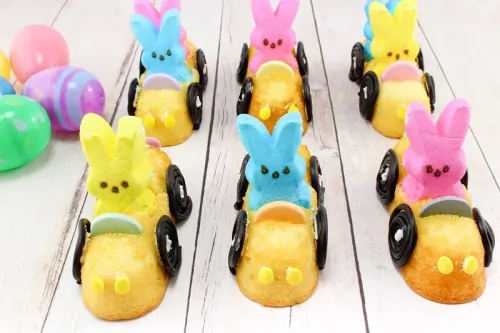 This pizza makes an awesome healthy Easter snack for those times when even the kids have had their fill of chocolate and candy eggs!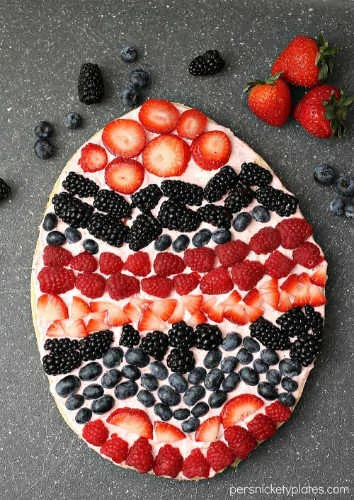 What preschooler or toddler doesn't like dips? This easy and festive dip is great with fruit or wafer cookies.
4. Stained Glass Cross Cookies from Down RedBud Drive
These impressive-looking cookies would make a great Easter treat at a Sunday School or Church gathering.
5. Healthy No-Bake Peanut Butter Nests from JoyFoodSunshine
These cookies are a perfect Easter treat to make with the kids as they are ready in just 15 minutes! They also make a great healthy Easter snack for school as they are gluten-free, dairy-free, refined-sugar free AND vegan!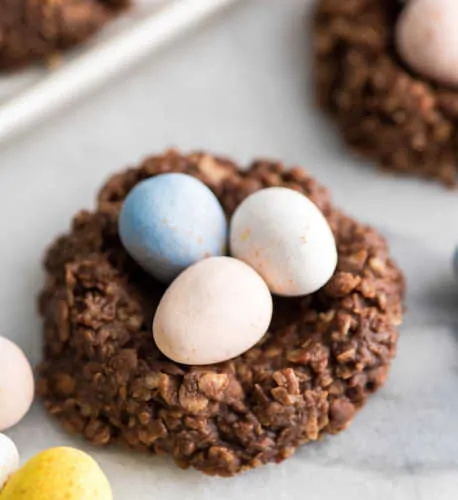 6. Easter Chocolate Cookie Pizza from Kitchen Mason
Kids will love decorating (and eating!) this super cute Easter treat!
7. Spring Chick Cupcakes from Mamma Lew
If cupcakes are your go-to for school parties and holidays, then these cute cupcakes will be the perfect treat for you!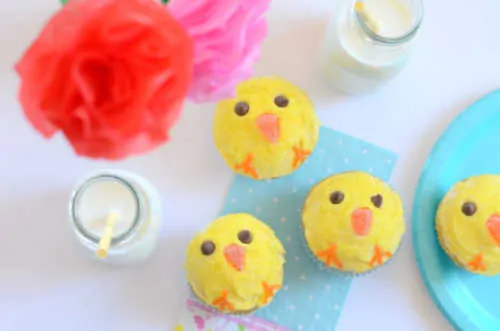 I always love making cute pretzel snacks for any holiday, the combination of sweet and salty is just right plus they are so easy to make!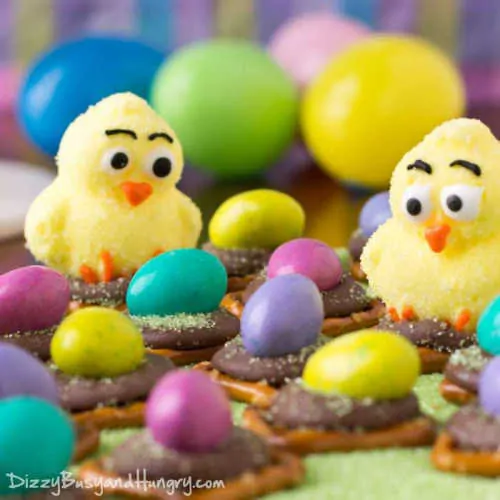 9. Bunny Butt Pudding Cups from Diana Rambles
These pudding cups make a great Easter snack at home or at school!
10. Easter Candy White Macadamia Bark from Thrifty Jinxy
This bark is just gorgeous to look at and would look awesome on any Easter snack table. The nuts are entirely optional and omitting them won't take away from the cute look for the bark which is why I have included it in this list of Easter snacks for kids.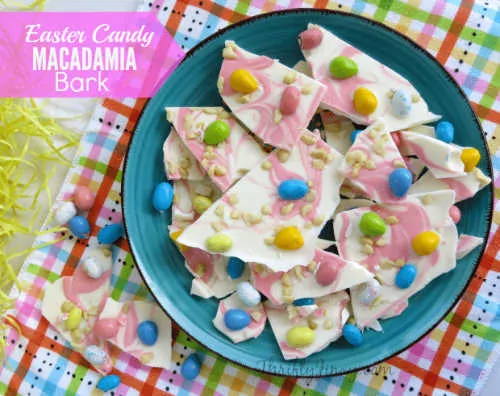 11. Carrot-Shaped Veggie Pizza Bars from Crayons and Cravings
I know it feels like there are a lot of pizza recipes in this list but if you are searching for healthy Easter snacks, you really can't go wrong with these awesome pizza bars! Even my veggie hating kids couldn't resist!
12. Easter Chocolate Covered Strawberries from The Gingham Apron
I love this Easter take on a decadent classic! My kids go absolutely wild for chocolate covered strawberries and I'm these will be a huge hit with children and adults alike.
The fact that these are somewhat healthy make them one of my favorite Easter snacks for preschoolers.
13. Easter Bunny White Chocolate Bark from Grits and Pinecones
The little bunny faces popping out of this bark are just too cute! This bark is such a fun Easter idea for kids!
These Rice Krispie treats are really fun to make with your kids and they also make the perfect playdate snack at Easter or anytime in the spring!
15. Carrot Crescent Appetizers from This Mama Loves
If you are looking for a savoury Easter treat, these fun carrot crescent rolls can be filled with anything from cream cheese to egg salad.
16. Peeps Pretzel Rods from Thrifty Jinxy
I love pretzel rods as they make great take-along snacks or even party favours for kids.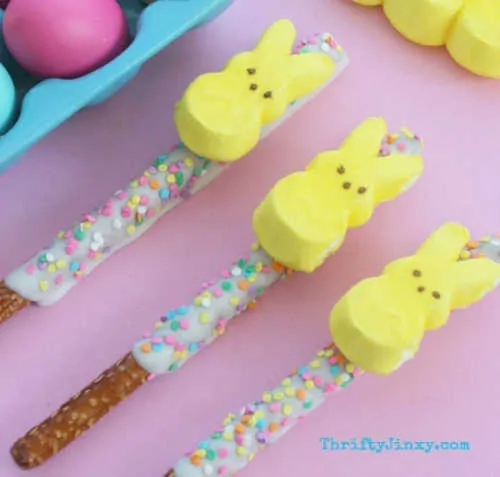 17. Homemade Resurrection Rolls from JoyFoodSunshine
These "empty tomb" rolls are a great snack to teach children the meaning of Easter and why we celebrate the holiday.
18. Krispie Easter Nests from Simply Stacie
No list of Easter snacks for kids would be complete without these cute bird's nests made from Rice Krispie breakfast cereal! I love the added touch of green grass in these ones.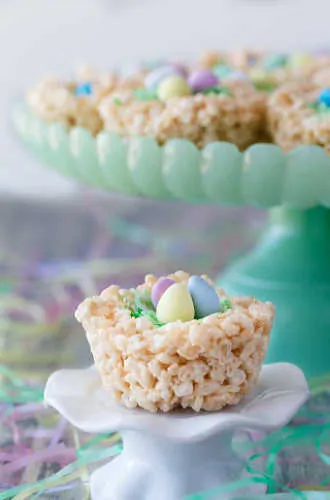 If you are feeling adventurous, these bunny butt caramel apples would make a great Easter party favour or snack.
Deviled eggs are a must at any potluck or holiday picnic – this Easter take on the traditional is perfect for spring!
21. Easter Egg Surprise Popcorn Balls from The Many Little Joys
These popcorn balls hide an Easter egg that you can fill with whatever treat or prize you like – think of them as a homemade version of a Kinder egg!
22. Spring Butterfly Cupcakes from Thrifty Jinxy
These cupcakes would look amazing at any spring party – I love them for baby showers too!
These cute Easter treats are a great chocolate version of the classic Rice Krispie squares.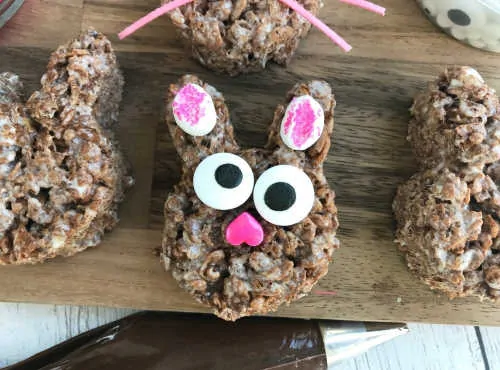 These little Easter baskets would look so cute on a dessert table this holiday.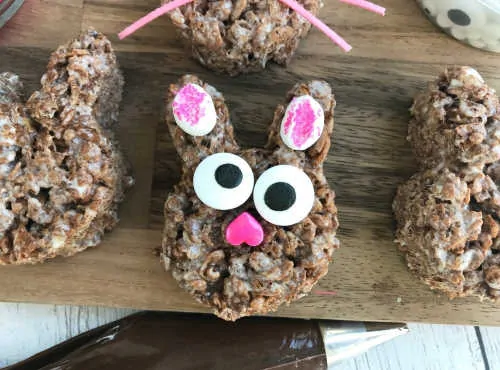 25. Egg-shaped Rice Krispie Treats from Souffle Bombay
I couldn't resist this version of Rice Krispie treats as they are just so easy to make and would be a perfect after-school snack or even treat in the Easter basket.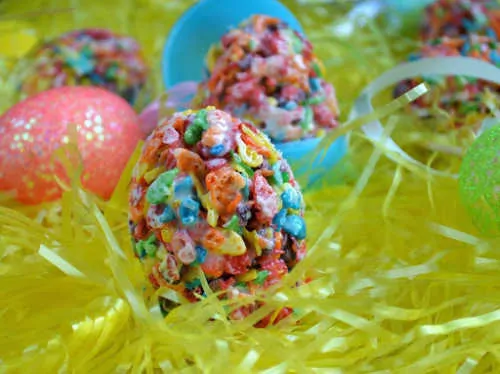 Easter Snacks For Preschoolers – Final Thoughts
These easy to make treats for Easter are perfect for serving at a school party or family gathering. Not only are they fun to look at, they taste great too.
Plus, most of them are easy enough that the kids can join in with you too!
More Fun Easter Ideas For Kids
35 Creative Easter Basket Ideas For Toddlers
8 Best Easter Books For Preschoolers
How To Make A Cute Easter Egg Wreath