Most of us know wheatgrass from health food stores or juice bars but did you know that using wheatgrass for fertility can help boost your chances of getting pregnant naturally?
Wheatgrass is a powerhouse of nutrients and goodness that can improve your fertility and may even help increase egg quality.
Including wheatgrass as part of your fertility-boosting diet plan can really help to supercharge your fertility and your health.
Read on for everything you need to know about this fertility superfood including a fantastic recipe for a wheatgrass smoothie for fertility.
This post contains affiliate links. Please read my Disclosure for more information.
RELATED POSTS
Wheatgrass Benefits For Improving Fertility
If you have ever seen wheatgrass at a juice bar, you know that it looks like very green, healthy grass. It smells just like freshly cut grass too.
Consuming wheatgrass for health was discovered by a chemist called Charles Schnabel. He discovered that hens fed with wheatgrass produced up to three times more eggs than other hens.
Wheatgrass contains the following nutrients that are great for fertility:
Chlorophyll
Vitamins A, C & E
Iron
Calcium
Magnesium
Folic Acid
How is wheatgrass good for fertility?
The concentrated amounts of antioxidant vitamins C & E along with chlorophyll make wheatgrass a great detoxifer that can help cleanse your body ready for pregnancy.
Folic acid, iron and magnesium are all essential minerals for a healthy pregnancy and can help your body get in shape ready to conceive.

Wheatgrass and egg quality
In The Infertility Cure, Dr Randine Lewis recommends ingesting wheatgrass to help with FSH levels and egg quality.
I have not been able to find any scientific studies to back this up but as wheatgrass is full of essential amino acids and minerals, it does seem to make sense that it would help improve egg quality in women.
If you are over 40 and are looking to get pregnant, it is definitely worth giving wheatgrass a shot.
Don't forget that if you are looking to improve your FSH levels and egg quality that it takes up to 90 days for a follicle to fully mature and for you to see a difference after making any diet or lifestyle changes.
Make sure to download this free report on improving your egg quality naturally to get more useful tips.
MORE FERTILITY TIPS
How To Increase Your Chances Of Getting Pregnant Over 40
How To Improve Your Egg Quality In 30 Days
Is Wheatgrass Safe During Pregnancy?
If you are taking wheatgrass to improve your fertility, you may wonder if there are any wheatgrass pregnancy contraindications.
The good news is that wheatgrass is jammed packed with folic acid making it an amazing pregnancy superfood that you can continue to enjoy throughout your pregnancy.
A nutritional analysis of wheatgrass shows an average of 29 mcg per 100g of wheatgrass.
Using wheatgrass for male fertility
The high levels of antioxidants in wheatgrass make it a fertility superfood for improving male-factor infertility. A 2017 Study from Malaysia showed that antioxidant supplements may increase sperm count and motility.
Wheatgrass may boost male fertility thanks to its high vitamin C content according to a 2011 study which investigated the effect of vitamin C on hyper-glycemic rats and found that it declines the amount of abnormal sperm and raises testosterone in blood.
If you want to learn more about increasing sperm health, make sure to download this free report on natural things you can do to get better sperm.
How To Use Wheatgrass For Fertility
The most common way to take wheatgrass for fertility is drinking a wheatgrass "shot" from a juice bar.
The wheatgrass juice fertility benefits are amazing because the juice is in its freshest state. This is by far the optimal way to consume wheatgrass but it can be expensive and also the taste is not for everyone.
Most smoothie bars and health food shops sell wheatgrass shots.
As it is very important that wheatgrass is consumed soon after it is juiced, most places will make the wheatgrass juice out of the shoots of young wheatgrass while you wait.
This is the easiest way to get fresh wheatgrass but it can be very expensive, with one shot of wheatgrass costing around $3-5.
If you would prefer to drink your wheatgrass at home or add it to your own fertility smoothies, you can buy prepackaged flash-frozen wheatgrass cubes.
Wheatgrass cubes are a convenient way of getting the freshness of a juice bar at home but they are still a pretty pricey option.
The next best way to taking wheatgrass is in powder form.
Wheatgrass powder is perfect for adding to smoothies or smoothie bowls or even to any other meals you like. The advantage of using powder is that you can hide the grassy taste in other foods.
If you really can't stand the taste of wheatgrass, your last option is to take the powder in capsule form. You can buy wheatgrass capsules on Amazon for a reasonable price.
Wheatgrass tablets are an easy way to get your daily dose of wheatgrass without the mess or taste.
Which Form Of Wheatgrass is best for Fertility?
Wheatgrass that is grown outdoors has higher levels of amino acids because of the sunlight. Almost all powdered and capsule wheatgrass is grown outdoors. Make sure if you buy wheatgrass in these forms that you opt for organic versions.
A lot of the fresh wheatgrass that you can buy at juice bars is grown under lights to ensure a constant supply of wheatgrass.
The best form of wheatgrass for you is the type you will consume and make a habit. The taste is very grassy and some people just cannot drink wheatgrass juice. In that case, there is nothing wrong with choosing wheatgrass in power or table form.
Wheatgrass Smoothie For Fertility
A superfood smoothie is a great way to boost your smoothie and get your daily dose wheatgrass in! Fruits will mask the grassy taste, making it easier to consume.
For this smoothie you can use wheatgrass powder or fresh wheatgrass. Barley grass can also be added in for an extra boost.
Yield: 1 Smoothie
Wheatgrass Smoothie For Fertility
A nutrient packed smoothie is a great way to start the day. This fertility smoothie includes wheatgrass which can help egg quality and male fertility issues.
Ingredients
1 Cup Organic Berries (frozen or fresh in season)
1 Scoop Organic Powdered Wheatgrass
3/4 cup pineapple juice or nut milk
1/2 avocado
1 scoop Collagen protein powder if desired.
Instructions
Combine all ingredients in your blender
Pour into a cup and enjoy
Nutrition Information:
Yield:
1
Serving Size:
1
Amount Per Serving:
Calories:

763
Total Fat:

36g
Saturated Fat:

8g
Trans Fat:

0g
Unsaturated Fat:

26g
Cholesterol:

25mg
Sodium:

285mg
Carbohydrates:

69g
Fiber:

16g
Sugar:

29g
Protein:

50g
1 Cup Organic Berries (frozen or fresh in season)
1 Scoop Organic Powdered Wheatgrass
3/4 cup pineapple juice or nut milk
1/2 avocado
1 scoop Collagen protein powder if desired.
Barley Grass For Fertility
I wanted to include a section on the barley grass fertility benefits here because it is often packaged with wheatgrass in capsules.
Barley grass is another very healthy grass that may be beneficial to fertility. You can take in addition to your wheatgrass or as a substitute.
Just like wheatgrass, the closer barley grass is to its original form – ie. the grass – the more effective it will be. A powder will be less effective than a fresh barley grass juice but still offer fertility benefits.
You can buy barley grass powder or capsules on Amazon.
How to grow your own wheatgrass at home
If you prefer to grow your own wheatgrass, you can make your own fresh wheatgrass juice at home pretty easily.
Here's what you will need to grow your own wheatgrass:
Certified organic wheatgrass seeds like these ones.
Organic soil
With good quality seeds, you should see sprouts within 24 hours of planting and be juicing within a week or two.
How to make wheatgrass juice at home
When your grass is 4-6 inches tall, you can make your juice.
Cut the grass just above the soil. You will need a fair bit to make one wheatgrass shot, roughly 1/2 a cup for one shot.
Feed the wheatgrass into a good quality juicer or add it to a good quality blender with a little water to liquify it.
How much wheatgrass per day for fertility?
You will want to gradually build up your intake of wheatgrass, especially if you are taking tablets which are easier to consume.
A shot a day of wheatgrass juice or 1oz a day is a good amount to take for fertility.
Wheatgrass Side Effects
Too much wheatgrass too soon can cause nausea so it is best not to go gung-ho with 4 shots a day right off the bat.
People have also reported the following side effects from wheatgrass juice – constipation, headache and loss of appetite. Consume wheatgrass in moderation and you should not notice any adverse affects.
Here are some tips for getting the most out of your wheatgrass shots:
Down it in one go – this is not something to be sipped
Chase the shot with a juice or smoothie
Add honey to sweeten the taste
FREE Fertility Resources (Ebooks, Checklists and more)
Click the links to instantly download the following useful resources, at no cost!
More Fertility Tips
The Best Smoothie Bowl For Fertility (Low carb, high protein!)
4 Ways to Balance Your Hormones And Boost Your Fertility
5 Herbal Teas To Increase Fertility Naturally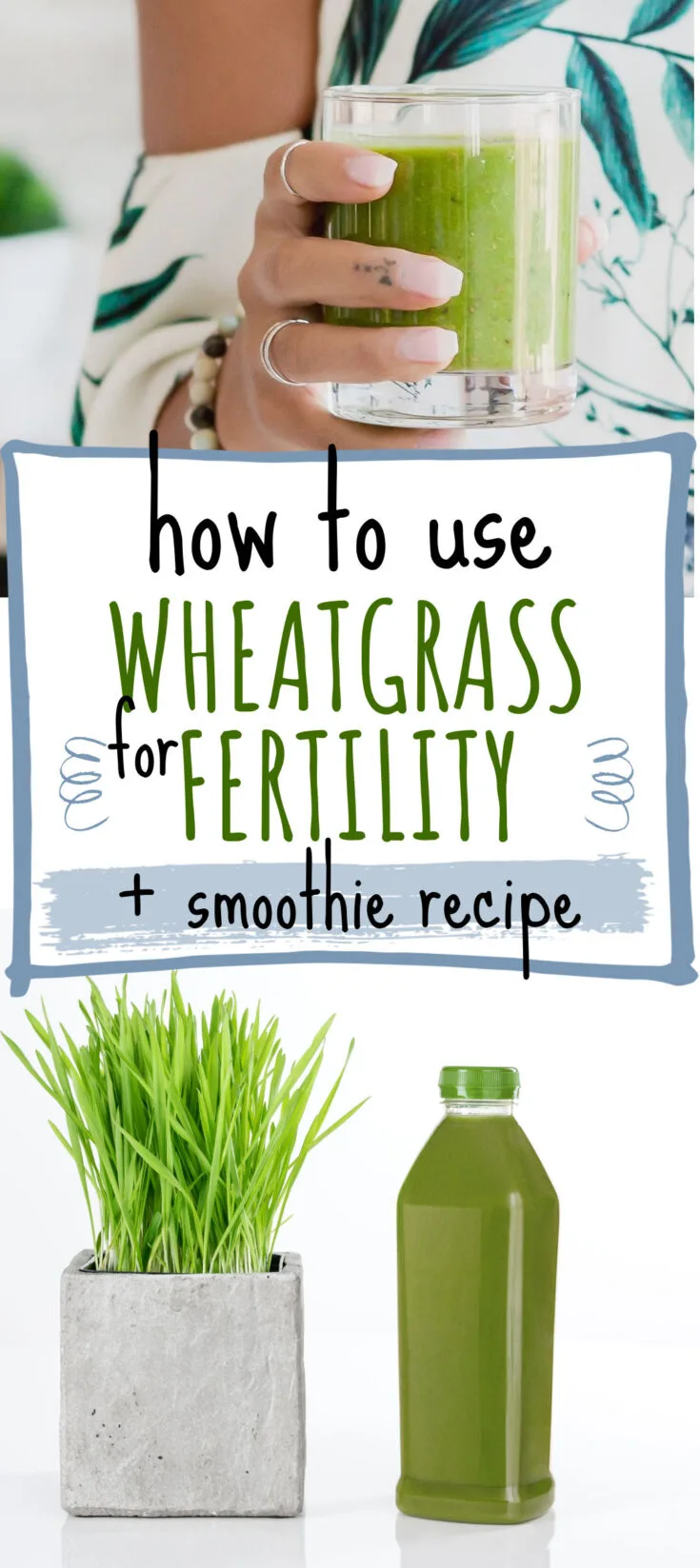 Free 14 Day Fertility Meal Plan!
Boost your fertility with this 14 day kick start program
Sign up for instant access to this free plan & more fertility tips