So you just found out that you are pregnant with triplets! First of all congratulations and second of all – now it is time to think of a super fun triplet pregnancy announcement!
Triplets are pretty rare, so, if you're pregnant with three babies, how do you break the news to your friends and family?
In this post we have some really fun triplet announcement ideas for you to share your exciting news with the world!
When it comes to announcing a triplet pregnancy, there are a few things to keep in mind.
First and foremost, you want to make sure that you and your partner are on the same page about how and when to share the news.
Once you've decided on that, craft a sweet, short announcement to share with your friends and family.
Whether it's a simple post on social media or a more formal announcement card, you can make sure it is as unique and special as your 3 babies will be!
Read on for all our triplet pregnancy announcement ideas!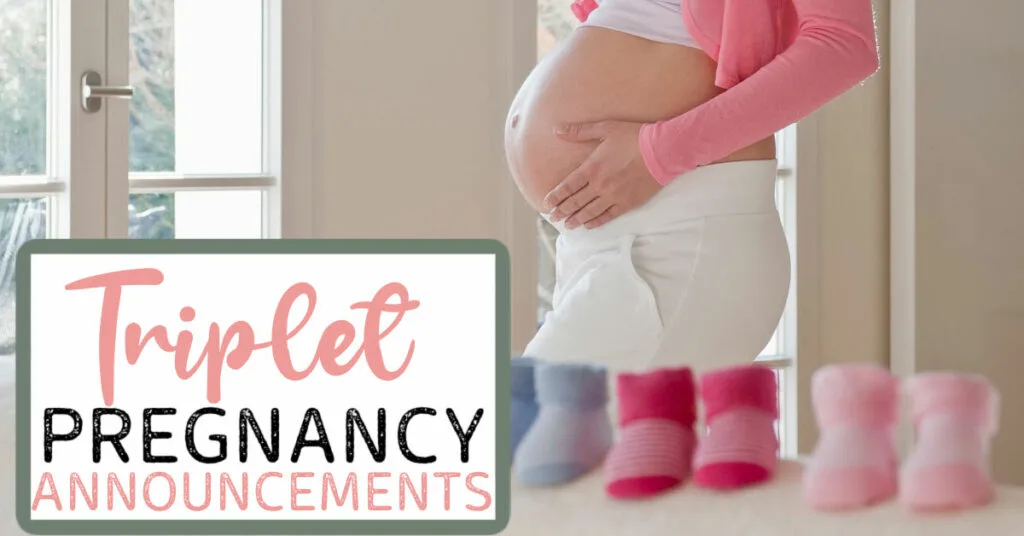 This post may contain affiliate links. Please read my Affiliate Disclosure for more information
MORE FUN PREGNANCY ANNOUNCEMENTS
10 Cute Dr Seuss Baby Announcement Ideas
16 Creative Police Pregnancy Announcement Ideas
Tips For The Perfect Triplet Baby Announcement
Who to tell first
When it comes to sharing the news of a triplet pregnancy, who should be told first?
In some cases, it may be best to tell close family members and friends before making a public announcement.
You might choose to wait until you are past the first trimester to tell the whole world however you might want to tell close family right away.
Of course, every situation is different.
Some parents-to-be may feel more comfortable sharing the news with a wider circle of people right away.
There are no hard and fast rules when it comes to announcing a pregnancy.
The most important thing is to do what feels right for you and your family.
How to break the news
When it comes to breaking the news of a triplet pregnancy, there are a few things to keep in mind.
First and foremost, be prepared for a range of reactions.
Some family and friends may be overjoyed, while others may be surprised! Also be prepared for some tactless questions about how you conceived. (check out my post on pregnancy announcements after infertility if you need to).
Secondly, consider how you want to deliver the news.
You can do it in person, over the phone, or even send a pregnancy announcement text or email. And of course, the most popular way to announce your pregnancy is on social media.
Check out our Instagram Pregnancy Announcement Captions for lots of fun ideas.
Lastly, try to have a sense of humor about it all! A triplet pregnancy can be a lot to take in, but remember that it's also a very special blessing.
Congratulate yourself and your partner on this amazing news, and enjoy every minute of this unique experience.
Cute Triplet Announcement Ideas
Below are some really fun and creative ways to announce your triplet pregnancy.
Just click through each one to see more about the announcement.
Pregnancy Announcement Videos
Want some inspiration of fun ways to announce your triplet pregnancy? Here are some of the best from YouTube –