Looking for some unique New Year's pregnancy announcement ideas to share your big news?
If you are expecting a baby in 2024, it's about time to start planning when you will share the good news.
New Year's Eve is a special time to share the excitement that surrounds expecting a baby and what better way to start off the new year than to share that news with everyone else?
In this post, we will go through some amazing pregnancy announcement ideas including in-person and virtual announcements!
This post contains affiliate links. Please read my Disclosure for more information.
MORE FUN PREGNANCY ANNOUNCEMENT IDEAS
33 Fall Pregnancy Announcements
26 Pregnancy Announcement Gifts For Grandparents
30 New Years Pregnancy Announcement Ideas
It's time to make the announcement. You're pregnant!
There are many ways that you can announce your pregnancy on New Year's Day or New years eve and we've got some ideas for you that will help set your family apart from all of the other new parents in 2024.
This guide has tips on how to announce that Baby #1 is coming in 2024, when there are plenty of celebrations going on.
It includes ideas for announcement cards, letter writing, social media posts, and more.
I've already got a bunch of fun Christmas pregnancy announcement ideas for you but if you want to share then news at New Years, we have you covered.
In Person New Year's Pregnancy Announcements
Announcing your big news to the whole family at a New Year's event is a memorable way to make it a really special occasion.
Below you will find some really creative ways to tell everyone about the new baby plus some fun ideas to share your pregnancy news that let everyone be part of the fun.
New Year, New Title
If you want to announce your pregnancy to family in person over the holidays, these his and hers t-shirts are a cute idea.
You could put them on under a sweater then casually take it off to reveal the t-shirt later in the celebrations.
I like these t-shirts because they would work for both a New year's Eve pregnancy announcement or New Year's Day.
These t-shirts come in different colors and get amazing reviews on Etsy.
Celebrate with Champagne
What New Year's event celebration is complete without a bottle of champagne?
A really fun New year's pregnancy announcement is to serve your bubbly in customized bottles.
You can grab these printable ones cheaply and then stick them on your champagne bottles (print on sticker paper for the best results).
Wait until someone notices the big news!
New Year's Countdown Tee
Here's another fun way to announce your happy news on New Years.
This t-shirt is a play on the classic New Year's countdown and would be a great way to to share your pregnancy with family and friends.
2022 Forecast
This cute t-shirt can is perfect for a funny pregnancy announcement at new years.
The nice thing is that it comes in both men and women's sizes so either of you can wear it – or you both can!
Balloon Announcement
Although these ready to pop balloons are actually meant to be used at a baby shower, you can have a lot of fun with them at a New Year's party.
Of course, people might initially think that the pop part is to do with champagne for midnight. Just wait until they start clueing in what they really mean!
Fortune Cookie Pregnancy Announcement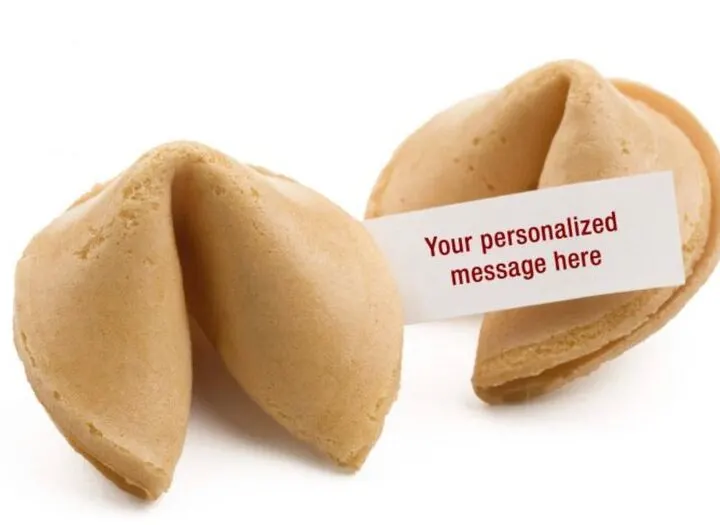 Here is one of the most creative pregnancy announcement ideas that I have seen.
You can customize a cute message in a fortune cookie and hand it out at midnight on New year's eve.
What a fun way to tell everyone you are pregnant!
Check out my other cookie pregnancy announcements for even more sweet ideas.
Our Year In Review New Year's Card
A lot people think of doing Christmas card pregnancy announcement but what about a cute New Year's infographic telling everyone about your year?
A pregnancy announcement card is a really easy and fun way to share your news with family members and friends.
Sneak in a part about the fact that you are expecting in the new year and see how long it takes everyone to read that part!
Wooden Sign Pregnancy Announcement
If you want to share the news of your positive pregnancy test, then this wooden sign is a cute way to do that!
There are lots of different ways you could use this wooden pregnancy test for your big reveal but one fun way would be a New Year's scavenger hunt.
Get everyone to try and find some items around the house and have a box containing the wooden sign (and maybe a mini bottle of champagne), waiting at the end of the hunt.
Some ideas for your scavenger hunt include:
Sparklers
Confetti
Balloons
Party horns (noisemakers)
A party hat
a Champagne flute
Scratch Card Gift Tag Announcement
If you want to have some fun with your pregnancy announcement, how about handing out these fun scratch cards at your party and letting everyone reveal the news themselves?
One fun idea for these scratches is to use them as a gift tag for a small present or prize at your New year's celebration.
All you have to do is punch a hole in the corner and tie some string around.
This would make a great party favor or hostess gift!
Play Some Party Games
Another fun way to announce your pregnancy during your New Year's celebrations is to play some fun party games.
Here are a few options:
Two Resolutions and a Lie
You probably know the classic "two truths and a lie" game.
This is a New Year's riff on that game that creates the perfect opportunity to tell everyone your news.
How it works
Everyone at the party takes turns to announce three different resolutions, two of which are true and one of which is a lie.
The other guests have to try and guess which resolutions are true and which is the untruth.
All you have to do is choose two slightly outlandish resolutions plus your pregnancy announcement " I resolve to change lots of diapers" or something funny.
The reactions will be priceless!
Guess The Resolution
Here is another fun New Year's party game that you can use to announce your pregnancy.
How It Works
As everyone arrives at the party, they write one resolution on a piece of paper and you drop them all in a hat.
Later on, everyone gathers round (or in teams) and you read out each resolutions. They can either jot down their answers on paper and you mark it later or they can shout out the answers.
This is another one where seeing everyone's faces will be amazing when they read out your resolution to have "lots of sleepless night".
Virtual New Year's Pregnancy Announcements
New Year's baby announcements are fun to do at New Year's Eve!
But what if you want to announce the exciting news to people that you won't be seeing in person?
The easiest way to do this is with a cute virtual pregnancy announcement on social media.
There are lots of great ideas for cute Facebook or Instagram pregnancy announcements, especially around the holidays.
Note – lots of these pregnancy announcements can also double up as birth announcements to let everyone know your bundle of joy has arrived.
Here are some of my top choices:
My New Year's Resolution
Keep it super simple with this fun way to share your baby news at new year.
All you need to do is have someone take a photo of you writing your "resolutions" and let everyone get the hint!
Popping Bottles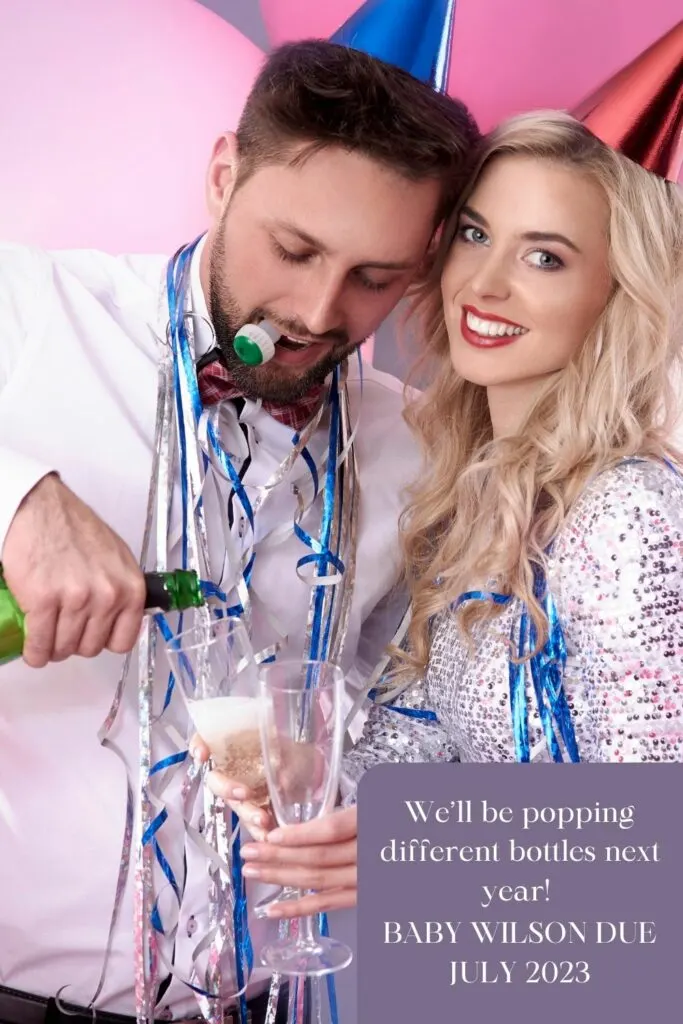 This is a super fun New Year's baby reveal!
Just get a photo of you and your partner popping open a bottle of Champagne and you have a fun set up for a Instagram pregnancy announcement.

Start the New Year with a bang by celebrating with your loved ones, a baby reveal and a lot of confetti!
The Ball Drop

The ball dropping isn't the only exciting thing happening when you are preparing for a baby in the New Year!
Tis The Season To Sparkle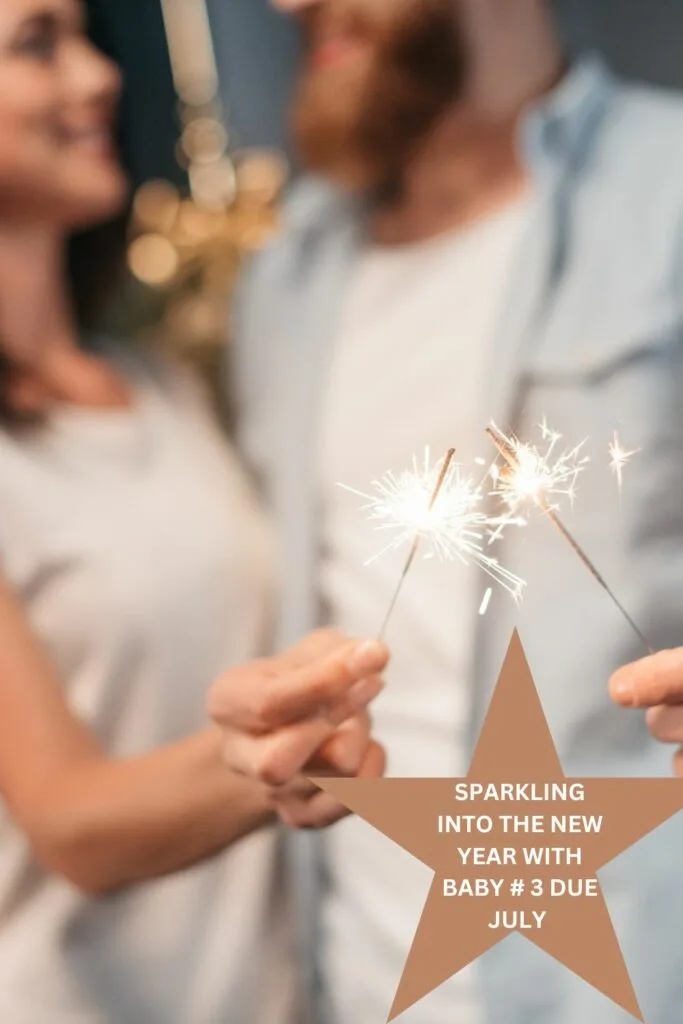 Another fun idea is to celebrate the new year with some sparklers then post the photo and your big baby news on your social media platforms.
Popping Bottles Baby Onesie
Here is another alternative to taking a photo and putting it on social media.
I love this funny take on a new year's pregnancy announcement.
This popping bottle onesie is so cute and comes in a digital file that you can have customized with your own ultrasound picture and details.
Extra Sweet New Year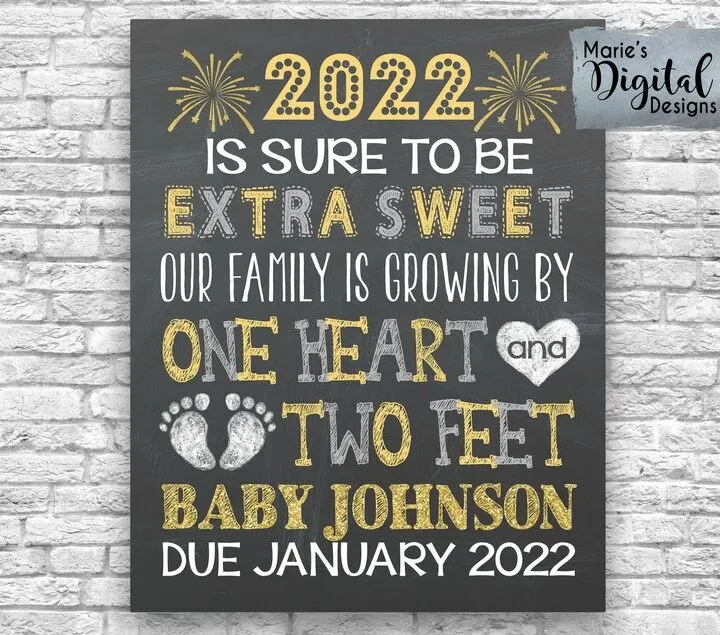 If you want a cute New year's pregnancy announcement that you can post on social media, this sweet sign is perfect for you.
Just customize it with your details (send them to the seller) and you will be good to go!
Best Year Ever
This fun digital pregnancy announcement is fully editable – add your baby's due date and other information and save it or print it out.
You can then post it on all your social media accounts or even email it out.
Letter Board Announcement
Letter board pregnancy announcements are all the rage!
Of course, you can use a letter board at home for your big announcement but if you are looking at digital items so you can post on your socials, how about this option?
You can add your sonogram photo into this digital file and then post it where ever you want online.
Baby Shoes Announcement
Using baby shoes to announce a pregnancy is one of the oldest announcement ideas.
If you want to incorporate cute booties into your digital announcement, here is a great option.
You can print this digital calendar and then add a pair of baby shoes and take a photo for your Instagram feed.
Baby Bump Pregnancy Announcement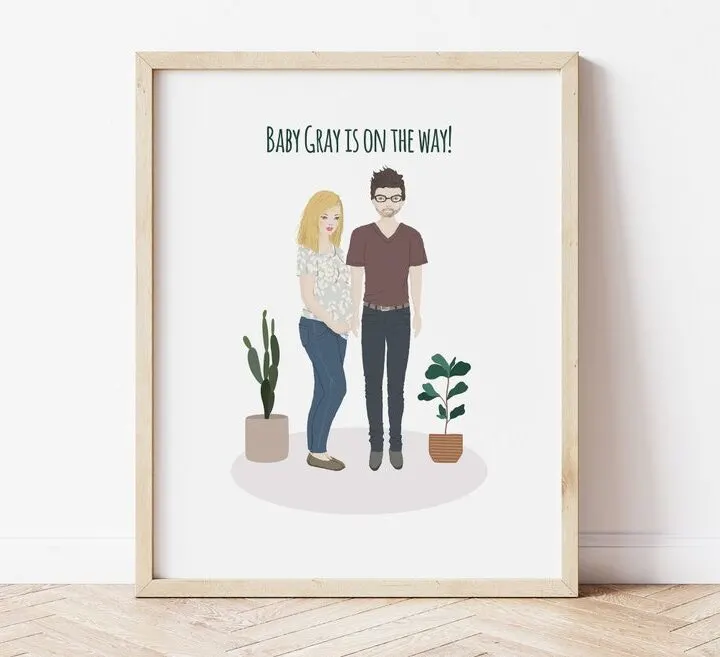 If you want to show off your pregnancy without actually saying anything, how about this sophisticated digital picture that lets the baby bum say it all.
I really like this pregnancy announcement because you could print it off and display it at home too so it would be great for an in-person announcement too.
Movie Poster Pregnancy Announcement
I just love this unique way to share the next chapter of your lives.
This movie poster looks just like the real thing and would be totally hilarious on social media or even at a New Year's movie party.
As you can see from the example, this would also make a fantastic idea for a birth announcement.
Pregnancy announcement ideas for siblings
Looking for the perfect sibling pregnancy announcement for your baby?
Whether you have older children and are expecting baby number 4 or this is your second child, here are some clever ways to share your news:
My New Year's Resolution
This is a great option if you have a child who is about to become a big sibling or if you want to just share the news yourself.
I love this cute New Year's Resolution printable chalkboard sign. It would make the perfect photo prop for your little one to share the exciting news that she is going to be a big sister!!
Ice Cream Pregnancy Announcement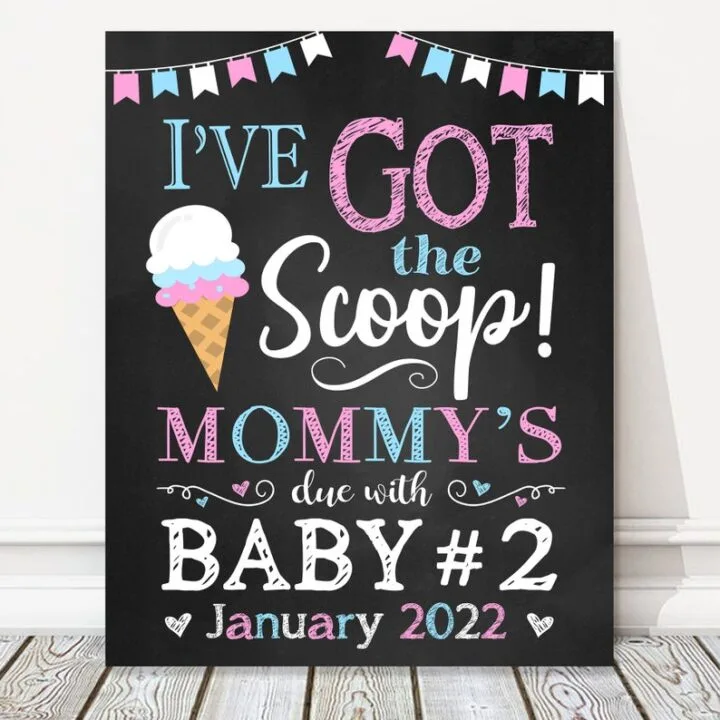 If you have a bunch of kids at your New Year's party, how about laying out a DIY Sundae station with a cute sign like this "I've got the scoop" printable.
To make an ice cream bar, you just need to lay out bowls of different toppings such as crushed nuts, Mini M & Ms, sprinkles and different syrups.
Then give everyone a bowl of ice cream and let them go to town!
Have this sign out next to your toppings selection and see who notices first! It is a great option if your baby will have older siblings and you want them to feel involved.
Only Child Status Expiring
Here is another cute pregnancy announcement that you can print out or just use as a digital file for social media.
If you want to print it out, I recommend sending it to a store such as Staples and getting them to print it on poster board or high quality photo paper.
Pregnancy Announcement Ideas For Pets
If you are expecting your first child and don't have a sibling announcement to do, how about including your pet and making your pregnancy announcement a family affair?
Here are some lists of the best pregnancy announcements to do with your pets:
31 Ideas For A Pregnancy Announcement With Dogs
11 Cat Themed Baby Announcements
11 Cute Horse Pregnancy Announcement Ideas
Below are a few of the best ways to include your pet in the announcement that you are expecting your first baby.
We're getting a human
Let your pet announce their new best friend with this fun digital pregnancy announcement for pets.
You can add a photo of your pet and your ultrasound photo in this customizable announcement.
Wooden Pet Pregnancy Announcement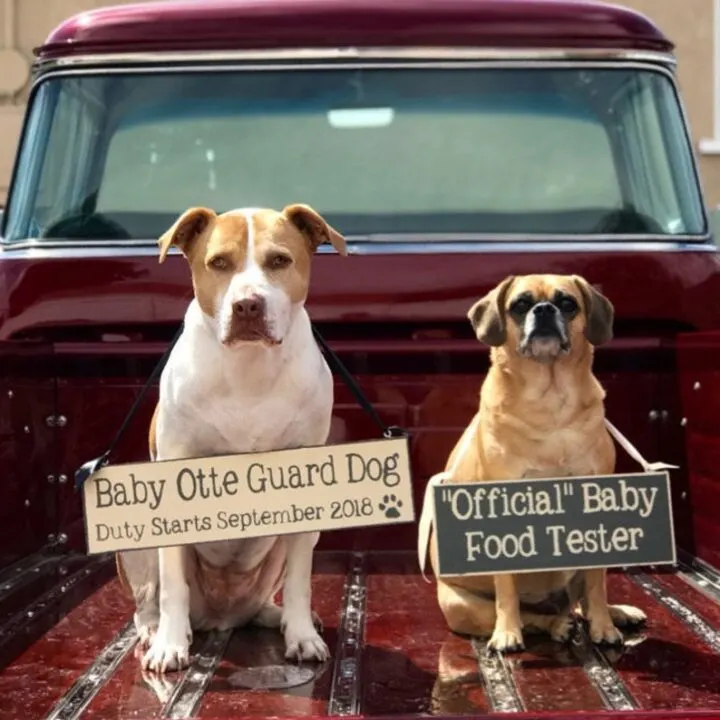 Who doesn't love dogs and babies? If you are pregnant this new years, use these custom pregnancy announcement signs to combine the two.
You could have your pet walk into your New Year's Eve party with the sign around his or her neck.
If you are doing things virtually, you could snap a photo then post it on Facebook and Instagram.
New Year's pregnancy Announcement Ideas – Final Thoughts
Want to share the great news with family and friends in person, you have tons of options in this post.
If you want to share online, then digital announcements are easy to buy and make your own.
Now the only thing you need to do is decide how to let the World know about your new addition!
Let me know which of these creative ideas is your favorite!
More Pregnancy Tips
43 Pregnancy Quotes And Parenting Advice For Expecting Moms
51 Best Pregnancy Movies To Watch When You're Expecting
How To Build The Perfect Maternity Capsule Wardrobe