It's no secret that I love my fertility smoothies. They are full of nutrients, they taste great, and they're so good for you! In this blog post I'm going to share with you a new recipe for a tasty pineapple avocado smoothie for fertility.
It is actually a copycat of a smoothie that I buy at a great health food restaurant here in Canada and is is packed with fertility superfoods that make it a great way to start your day.
Read on for the recipe and all the details.
This post may contain affiliate links. Please read my Disclosure for more information.
MORE FERTILITY SMOOTHIE RECIPES
Pineapple Avocado Smoothie For Fertility
The best part is that about this smoothie is that it is not only delicious but it also has all the right ingredients to help boost your fertility without any nasty side effects!
A smoothie is the perfect way to get a huge blast of fertility boosting foods quickly. If you wanted to eat the same amount of foods whole, you would probably get too full or just not fancy them but a delicious green fertility smoothie is so easy to drink, even on the go.
Read on to find out more about these amazing benefits!
What Is In The Pineapple Avocado Smoothie?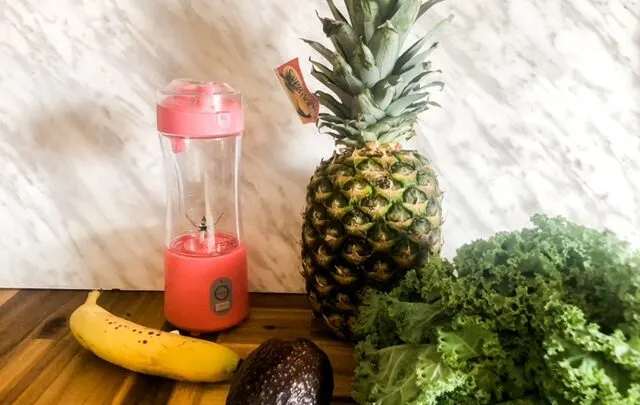 Obviously pineapple and avocado are the stars of this smoothie but there are some other amazing fertility superfoods too.
Sign up below for a free list of fertility superfoods plus a meal planner and grocery list.
Ingredients For A Copycat Freshii Green Smoothie
Almond milk (or water)
You need some kind of liquid to thin out the smoothie. I also sometimes use pineapple juice to get an extra injection of bromelein which is amazing for boosting your changes of implantation.
Avocado
I like adding in an avocado into my green smoothies as it makes them extra creamy and rich tasting without any added sugars or sweeteners.
Avocado is also a fertility superfood packed with healthy fats. They are also a great source of Vitamin E which can improve your uterine lining.
Pineapple
I prefer to use fresh pineapple but you can use frozen if you need to.
The reason I use fresh pineapple that I cut myself is because I include the pineapple core in my smoothie.
The pineapple core has the highest amount of bromelein which is great for fertility.
It is one of the best foods to eat for implantation.
Kale
This is one of the key ingredients to all my green smoothies as it adds so many nutrients such as Vitamin A, C, K plus Magnesium which helps aid fertility naturally!
It's also great at helping to alkalize the body and remove toxins
– ½ cup of blueberries – fertility boosting antioxidants, these little berries are packed with Vitamin C as well as good levels of folic acid which is beneficial in helping to prevent birth defects such as spina bifida.
Banana
This makes the green smoothie extra creamy plus it adds lots of nutrients including potassium which helps regulate blood pressure, Vitamin B & E that help aid fertility naturally by promoting cell growth and repair.
Plus they're also high in Magnesium! Bananas are high in carbs so you can omit the banana if you are trying to stick to a lower carb diet or are over your carbs for the day.
What Kind Of Blender Should I Use?
You can use any blender to make this smoothie, it doesn't have to be an overly expensive one.
I use an individual travel blender for my smoothies because I like to make my smoothie up the night before then just grab it and take it to work with me.
The portable blender I use is this one from Amazon. It is rechargeable and I've been using it for over a year with no issues.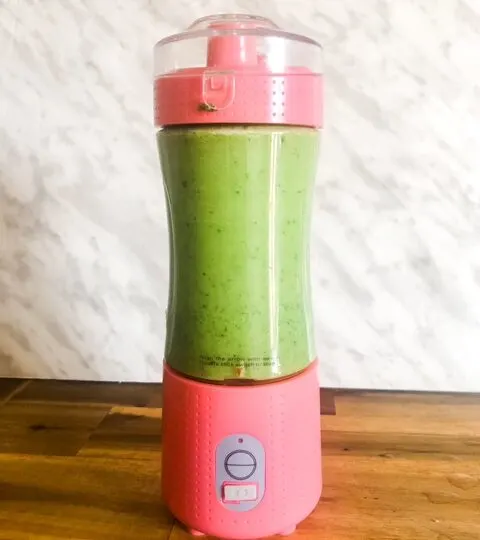 Optional Add-ins To Your Smoothie
Cinnamon
This helps balance blood sugar levels as well as promoting fertility. Cinnamon is also great at helping to detoxify the body and strengthen immunity which are key factors in fertility!
Maca Powder
Maca Powder is a fertility boosting food that can be used to increase fertility naturally.
It is a plant based powder that you can add to you smoothies.
It has been found to help fertility due to its high content of nutrients including, maca root which has been shown to naturally regulate hormones in the body.
Wheatgrass Powder
Wheatgrass contains high levels of fertility boosting vitamins and minerals such as Zinc, Vitamin A and B2.
You can buy organic wheatgrass powder and add a scoop to your pineapple avocado smoothie. As wheatgrass has a really strong taste, smoothies are often the best way to take this supplement.
It also has fertility boosting benefits because it contains antioxidants which produce energy in the body.
These fertility boosting antioxidants can be used to improve fertility by reducing oxidative stress on the body which then reduces the risk of fertility defects.
Additionally, wheatgrass has fertility boosting benefits that come from its rich content of chlorophyll. Chlorophyll helps balance hormone levels.
Free Fertility Smoothie PDF
Get a free ebook with more fertility smoothie recipes by signing up below:
Yield: 1
Pineapple Avocado Smoothie For Fertility
This green smoothie is perfect for improving your fertility naturally. It is packed with fertility superfoods.
Ingredients
1/2 Avocado
1 cup diced fresh pineapple
1 cup of chopped kale
1/2 banana
1/2 cup of liquid (water, pineapple juice, almond milk etc)
Instructions
Simply throw all of these ingredients into your blender, blend until smooth then enjoy!
Notes
I always add the liquids to my blender first as it makes it easier to break down the other ingredients.
I recommend drinking one glass of green smoothie for fertility daily on an empty stomach first thing in the morning or before bedtime (this will ensure that it is digested properly)
Nutrition Information:
Yield:
1
Serving Size:
1
Amount Per Serving:
Calories:

332
Total Fat:

16g
Saturated Fat:

2g
Trans Fat:

0g
Unsaturated Fat:

12g
Cholesterol:

0mg
Sodium:

39mg
Carbohydrates:

51g
Fiber:

13g
Sugar:

26g
Protein:

6g
Pineapple Avocado Smoothie For Fertility- Final Thoughts
The fertility benefits of a green smoothie are many. Not only do they have the power to boost fertility naturally and without any nasty side effects, but they also promote fertility by supporting cell growth and repair as well as regulating blood pressure.
If you're looking for something refreshingly cold on a hot day or want an extra jolt of vitamins in your diet, try making up a batch!
MORE FERTILITY TIPS
Fertility Massage: The Best Way to Increase Egg Quality?
Reiki For Fertility – The Best Hand Positions To Try