Do you have a child who loves getting crafty? I'm always looking for fun gifts for kids who love art as my two daughters just love creating and making things.
I love gifting art supplies to children as I think they encourage creativity and don't add to the ever-growing piles of plastic toys that all parents hate.
This post contains affiliate links. I was compensated for this post but all opinions are my own. Please read my Disclosure for more information.
RELATED POSTS
The Best Gifts For Kids Who Love Art
It doesn't matter how old or young your kids are, there are fun artsy gift ideas for all ages.
The great thing about most of the gifts below is that they are consumables, meaning they are used up and don't end up taking up space in a house for years.
Consumables are my favorite type of gifts as they reduce clutter and encourage children to use their imaginations.
Gifts For Kids Who Love Painting
Kids who love painting will have a blast with the art gifts below.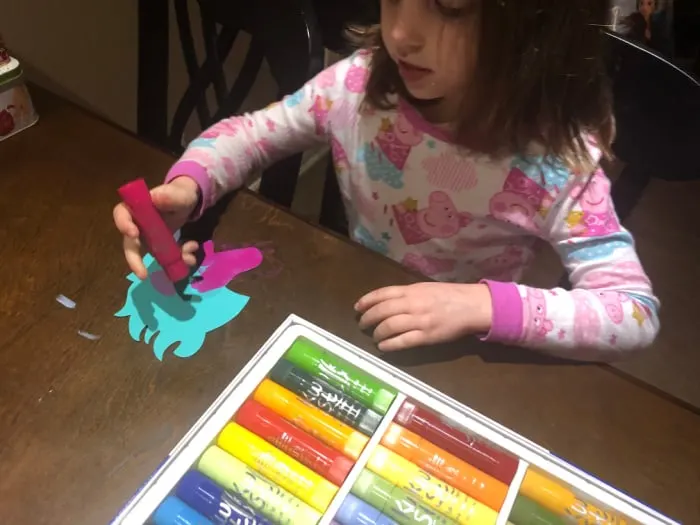 1. Kwik Stix – Do you have kids that love painting but you hate the mess and clean up?
Kwik Stix are the perfect solution!
They look like glue sticks but are actually paint!
My kids love sing them and I find them so much easier than getting out pots of paint and brushes.
They are also perfect for toddlers and little kids who tend to tip paint over or get it everywhere.
It goes without saying that the paint in the Kwik Stix is washable so perfect for arts and crafts at home or at daycare.
2. Rock Painting Set – This set includes 10 rocks for painting as well as ideas for fun designs.
Painted rocks were all the rage during our lockdown in the spring so these are sure to be a hit.
3. Create Your Own Window Art – these sun catchers are a fun things to make and display at home. The set includes 12 different designs.
4. Paint Your Own Dinosaur Kit – my kids love going to the pottery painting parties so these kits are a great way to recreate this at home.
You can also get a paint your own unicorns kit.
5. Kids Art Set – this set contains everything a budding artist needs.
It includes a table top artist's canvas and easel, brushes, acrylic paints and a smock.
6. Squishy Painting Set – what kid nowadays doesn't love squishies? This set has 4 slow rise squishies to paint and decorate.
Art Gifts For Kids Who Like Making Things
If your kids are like mine and like getting creative, the ideas below are sure to be a big hit.

7. Create your own sand art – when I was a kid, we always made sand art on vacation.
This kit includes the 6 shaped bottles and 8 different coloured sands.
8. Make Your Own Soap Set – my daughter got this set for her birthday this year and we had a blast making it the soaps one afternoon.
To be honest, I was kind of dreading it as I thought it would be really complicated but these glycerin soaps are so easy to make and look like jewels.
9. Build and Paint Wooden Cars – this DIY wood craft kit includes 3 cars to make and then decorate.
10. Magnetic Mini Tile Kit – This magnetic tile art set includes 12 2″ x 2″ tiles, magnets, a paint strip and brush.
11. Make A Wind Chime – Combine the science of wind power with arts and crafts materials to create and personalize a pair of beautiful terracotta flower pot wind chimes
12. Shrink Art Kit – Create 20 different shrinkies with this fun kit. Includes key chain accessories.
Fun Artsy Gifts For A Rainy Day

13. Crayola Super Art Coloring Kit-This 100 piece kit contains everything kids need to get creative and use their imaginations.
14. Rainbow Magic Scratch Paper – my kids love creating their own designs and writing letters on rainbow scratch paper.
This set contains 50 sheets of paper.
15. Spirograph – bring back a classic from your childhood with a Spirograph created especially for little ones.
The gears on this junior version are larger and easier to use.
16. DIY Clay Jewelry Dish Art- Create 3 colorful designer jewelry trinket dishes with this all in one, 28 piece, do-it-yourself craft kit. Best for kids ages 8 and up.
17. Unicorn String Art – This is a great gift idea for ages 10 and up. It includes two different string crafts to make.
18. Aqua Magic Doodle Mat – this mess free painting is perfect for little kids and requires no supervision.
Art Gifts For The Car
Looking for some fun activities for the car? Here are my top picks.

19. Water Wow! Books – one of my favorite mess free ideas for kids. Water Wow books are like coloring books without the risk of marker going everywhere.
Plus, once the paper dries, you can use it again, and again.
20. Imagine Ink Coloring Pad – This coloring book uses invisible ink meaning there is no mess for you!
This one is Frozen 2 themes but there are all different options to choose from.
21. Mess-Free Glitter Activity Kit – This mess-free kit includes 2 peel-and-sparkle scenes and 5 glitter sheets in a princess theme.
Stocking Stuffer Art Gifts
22. Melissa and Doug Accessories Set– this set includes 3 different crafts including make your own bracelets, headbands and bangles.
23. WikkiStix – these are great for letting your children's imagination run wild.
They can create anything they like with these bendy sticks.
24. Decorate Your Own Monster Truck- this is a cute wooden craft kit that is the perfect stocking stuffer for kids.
25. Bookmark Scratch Art If your kids like scratch art, this is a nice kit that would also make a great goodie bag idea.
More Gift Ideas For Kids
The Best Princess Gifts For Preschoolers
Girl Power Gifts For Girls Of All Ages
More Stocking Stuffers
20 Baby Stocking Stuffers For A Special Christmas
What To Put In A Guy's Stocking For Christmas