One in 28 babies are born to a mother over 40 years old, the only age group where the birth rate is actually increasing. But what are the actual chances of getting pregnant at 40 naturally?
According to most research your chance of getting pregnant naturally at age 40 is about 5%.
This is a drop from 75% at age 30.
There is no denying this is sobering news but it's not all doom and gloom.
Many women get pregnant in their 40s and in 2017 women ages 40 to 44 had 114,730 of the 3.8 million babies born in the USA while women 45 and older had 9,325.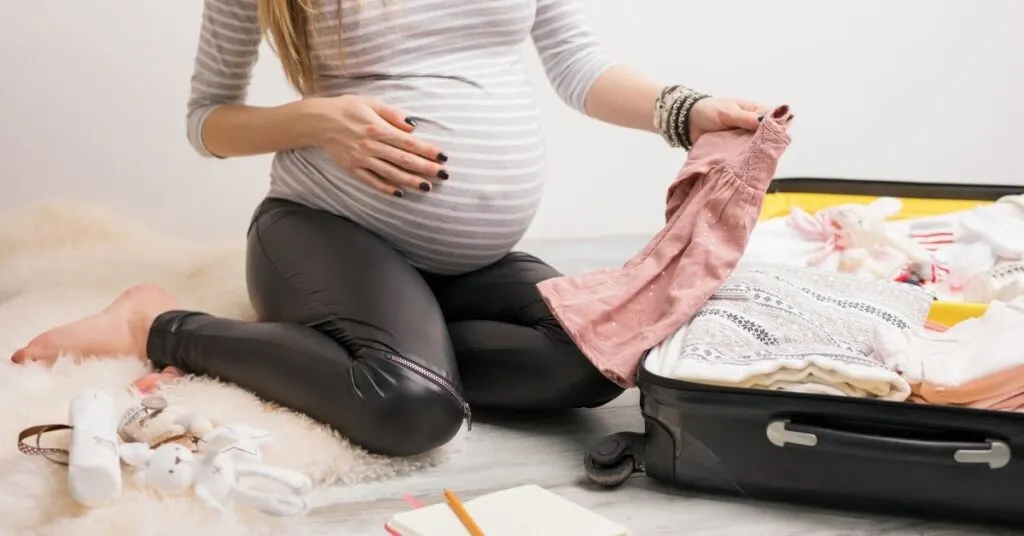 This post may contain affiliate links. Please read my disclosure for more information.
As you can see from the stats above, there is a huge different between trying to get pregnant at age 40 and your chances of getting pregnant at 46 with your own eggs.
You might think that your chance of getting pregnant at 44 naturally is slim but in fact research shows that jumping right to treatments is not always the answer.
If you are in your 40s and know that you want to have children, it's important to start working on a fertility plan as soon as possible to help you achieve your dreams.
RELATED POSTS
The Fertility Diet that changed my life
How To Improve Your Egg Quality In 30 Days
Can a 44 year old get pregnant naturally?
If you are over 40 and wondering how to increase your fertility without going through treatments, there is some good news .
According to the famous Zita West Fertility clinic in Europe, a 44-year-old has more chance of conceiving naturally than through IVF with her own eggs.
We all have all heard success stories from women over 40 and it looks like it really is possible. But why would it be easier to get pregnant naturally than with fertility treatments?
Well according to Anita of the Zita West clinic:
"IVF stimulates the ovaries to push out as many eggs as possible — great if she's younger and has loads of good eggs, not so great if she's older.
Mother Nature, however, may naturally select a dominant egg that's healthy. "
That's great news for anyone who wants to get pregnant at 42 or 46 with their own eggs.
Natural Pregnancy After 40- Success Stories
If you are looking for some success stories of women who have got pregnant naturally after age 40, I came across a lot of inspirational stories on the The Natural Fertility Coach success stories page.
On the page you can find the following videos of women who got pregnant naturally at age 40+, in fact, the majority of these success stories are from women who were TTC over the age if 45.
Rossi – Pregnant after failed IVF, conceived at 46
Wendy, pregnant 45 after 3 years of TTC
Kassandra – gave birth just before her 44th birthday (and 3 failed IVF procedures)
Sammie – pregnant at 44 with frozen sperm.
You can see all the videos by clicking this link.
How To Increase Fertility After 40
Improving your fertility after 40 requires a laser sharp focus and a real commitment.
It is definitely possible to increase your chances of getting pregnant at 40 or even 44 naturally but you need to take a multi-pronged approach.
Start A Fertility Diet
First of all, switch to an all-natural fertility diet like the The Fertility Diet. This diet is rich in protein and lower in carbs than the normal western diet and can help to increase your egg quality.
After 40, the main issue is that you don't have many eggs to play with. You need to really work on making every follicle as strong as possible to increase your chances of conception every month.
You can grab a free kick-start meal plan here.
Free 14 Day Fertility Meal Plan!
Boost your fertility with this 14 day kick start program
Sign up for instant access to this free plan & more fertility tips
Add In Some Fertility Superfoods
Boost your chances by incorporating some foods that increase fertility into your daily diet.
Smoothies are a great way to do this easily, here are some great fertility smoothie recipes to try:
The Ultimate Fertility Smoothie for Men & Women
Fertility Breakfast Smoothie To Help You Get Pregnant
The Best Smoothie Bowl For Fertility (Low carb, high protein!)
Wheatgrass Smoothie For Fertility
Pineapple Core Implantation Smoothie
You can also download my free fertility foods list and grocery list below.
Get Tested
Even if you have no intention of going the treatment route, after age 40, it doesn't hurt to get a full fertility work-up early on.
This will help to eliminate any issues such as blocked tubes or low progesterone levels that can prevent you from getting pregnant or cause pregnancy loss.
I know of many women who have spent months trying to get pregnant only to have a fertility physical after 6 months to a year and finding that their tubes are blocked.
After 40, you just don't have the time to lose so it's better to get checked out early on and fix issues that arise.
Take Supplements
A naturopath can measure your blood levels for specific nutrients that are essential for fertility but at a minimum you want to be taking a good quality prenatal with folic acid, a high quality coenzyme Q10 and an omega 3/6 supplement.
There are many other fertility vitamins & supplements that can help improve your chances of getting pregnant.
You should speak to your doctor before starting a regime.
Exercise
Now is the time to start regular exercise and add in some fertility yoga poses to your daily routine.
Fertility yoga can help to open your pelvic area and improve blood flow to your reproductive organs, keeping them healthy.
Make sure not to overdo the exercise. Too much may affect your periods and can hinder your fertility. Gentle exercise such as walking, swimming or yoga is the best, especially after ovulation every month.
Quit Bad Habits
It should go without saying but if you really want to increase your chances of getting pregnant at 40 or older, you need to stop smoking and cut back (or stop) drinking.
The effects of smoking and fertility are many but include increase miscarriage, lower overall pregnancy rate, low birth weight and damage to eggs and ovaries (which is exactly what you don't want when trying to get pregnant in your 40s).
Your partner also should stop smoking. It can lower sperm counts and motility which will make it harder to conceive.
The good news? The affects of quitting can be seen within a few weeks or months so stop as soon as you can.
Smoking is bad for the health of your unborn baby anyway so just think of quitting smoking now as giving yourself a jumpstart.
What about drinking alcohol?
Most of us know to cut out alcohol when pregnant, however alcohol can really affect your fertility before you conceive.
A study from Case Western Reserve University School showed that even 1-5 drinks a week results in a decreased chance of clinical pregnancy.
Although "drink til you're pink" is a mantra common in the TTC world, if you are over 40 and trying to increase your chances of conceiving, it might be wise to cut alcohol out completely.
What About A Detox?
The jury is out on whether you really need to do a full-on fertility detox but there is something to be said for trying to live as chemical-free and eliminate as many toxins from your life as possible.
You can read more about using herbs for a fertility cleanse here.
I also really like this video about detoxing your system before TTC.
Know Your Cycle
One of the most important things you can do when trying to get pregnant over 40 years of age is to make sure you are trying at the right times!
You want to make sure to cover all your chances about getting pregnant by know exactly when the optimal times of your cycle are. The best way to do that is to use an ovulation predictor kit.
There are a few options that you can use, depending on your budget and personal preference.
At the budget end, you can get Wondfo ovulation strips. They are cheaper than even dollar store tests. Kits include some pregnancy tests too to save you money on the store bought expensive ones.
More expensive is the Ava tracking bracelet. You wear it while you sleep and it uses sensor technology to reveal what's really happening with your cycle.
You can also download an app like the Premom Ovulation App.
For more ovulation predictor kit options, you can read my list of the best ones available.
Increase The Chances of Getting Pregnant After 40: Checklist
Below you will find a checklist to complete to make sure you are in optimal shape to get pregnant.
✅ Assessments and tests – bloodwork, HSG etc. Make sure there are no "easy fix" issues holding you back. Your partner should also get basic tests done.
✅ Detox and toxin removal – Stop using chemicals in your house and on your body. Opt for natural deodorants and beauty products.
✅ Dietary Changes – check my fertility diet for more information.
✅ Lifestyle modifications – cut out smoking, alcohol and cut back on caffeine.
✅ Exercise and maintain a healthy weight which will help increase your chances of getting pregnant. ‰
✅ Take Supplements and vitamins where needed – Get the list here.
✅ Cycle timing – you won't get pregnant if you aren't trying at the right time.
✅ Get proper sleep
✅ Practice stress reduction and emotional support
FREE Fertility Resources (Ebooks, Checklists and more)
I've teamed up with the folks at Fertility coach to give you some free fertility resources. The freebies below will be sent directly to your inbox for no cost at all.
Click the links to instantly download the following useful resources, at no cost!
More Fertility Tips
How To Use Essential Oils For Fertility
4 Ways to Balance Your Hormones And Boost Your Fertility
5 Herbal Teas To Increase Fertility Naturally
Free 14 Day Fertility Meal Plan!
Boost your fertility with this 14 day kick start program
Sign up for instant access to this free plan & more fertility tips