This healthy fertility smoothie is full of nutrients and vitamins to help your body prepare for pregnancy. It is great for anyone suffering from PCOS or high FSH as well as unexplained infertility.
It would also be fantastic for your partner to drink as the maca root powder is really good for male fertility.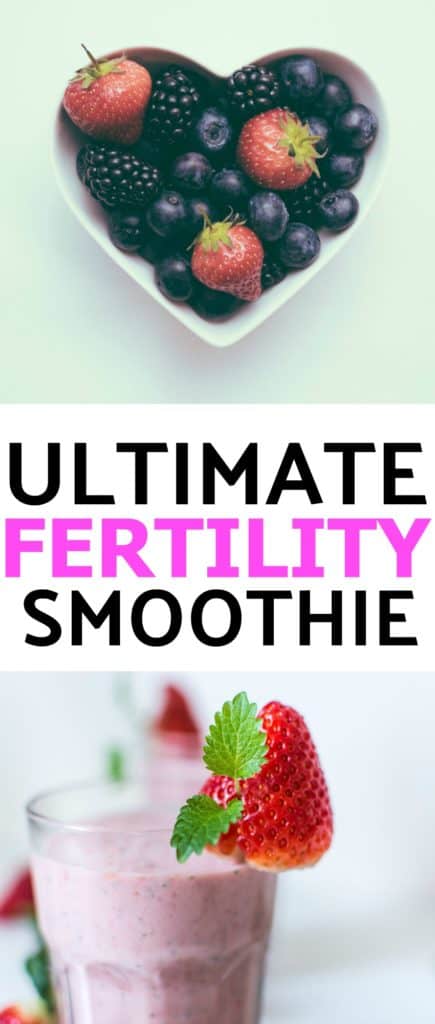 This page contains affiliate links meaning I earn a commission if you use those links. I only recommend brands I use and trust.
Drink this smoothie as part of your fertility diet along with other superfoods like nuts, eggs, and beans.
The protein powder in the smoothie makes it a great choice to pump up your protein counts for the day while not overdoing the carbohydrates.
Read Now: The Fertility diet that changed my life
Related:The Best Supplements to Boost Your Fertility
Related: 10 Fertility Friendly Desserts You Can Enjoy Guilt-Free
Fertility Smoothie Ingredients
Frozen or fresh berries – Fresh is better as you shouldn't drink ice cold drinks when TTC, Chinese medicine believes warm drinks are good for the uterus.
Protein Powder – natural and plant based is best, I used this one because it has greens too which are great for fertility. It is a plant based protein that contains pea protein.
Some older studies explored the ideas that peas may slow down conception due to a compound called m-xylohydroquinone.  Most fertility experts nowadays do not think peas are a huge risk to fertility but personally, I did not eat them whole while I was trying to conceive (luckily I don't like them much anyway!).
If you want to avoid peas completely, choose an organic or grass-fed whey protein such as this one. Soy protein is not recommended if you are trying to conceive. You can then add in a separate greens supplement.
Milk – regular (full fat is best) or almond or coconut milk
Maca Powder
– This is an ancient Peruvian root crop that is said to benefit both men and women's reproductive organs.
Pineapple – Pineapple core contains bromelain which is supposed to help build your uterine lining ready for implantation.
Coconut oil, avocado and/or ground flax seeds – healthy fats are essential for fertility and these thicken up the smoothie in lieu of banana (too carby for The Fertility Diet to have every day).
Optional:
You can add royal jelly and bee pollen to your smoothie or take them as capsules. I used Dr. Danielle's Bee Well which combines the two ingredients into one capsule. *Don't take this if you have a bee allergy*
Fertility Smoothie Nutritional Information
If you are following the fertility diet outlined here,  you know how important the right balance of macronutrients is for your fertility.
My recipe for the smoothie is a perfect example of the fertility diet in action.
Carbohydrates: 37%
Fat: 36% 
Protein: 27%
This is using the following measurements:
1 scoop of protein powder
1/2 cup of pineapple
1 tablespoon of maca powder
1/2 cup of strawberries
1 cup of full-fat milk
1/3 avocado
You can play around with different variations to add more protein or fat as needed.
For more tips on adding fertility superfoods into your daily diet, sign up here  for my free 5-day fertility diet meal plan.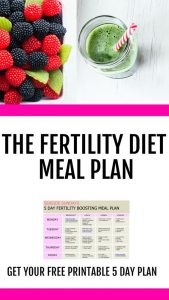 For more information on the diet and the lifestyle and food changes I made AND a 21 day meal plan, check out my book, Naturally Fertile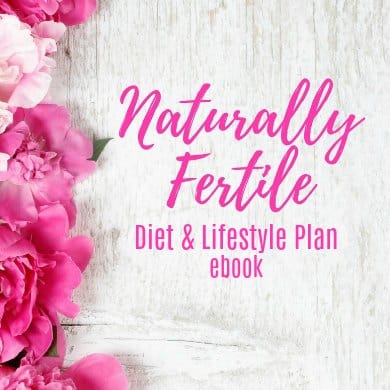 More fertility-boosting tips:
The Fertility Diet that changed my life
Inspiring books about infertility
10 Products to try when you want to get pregnant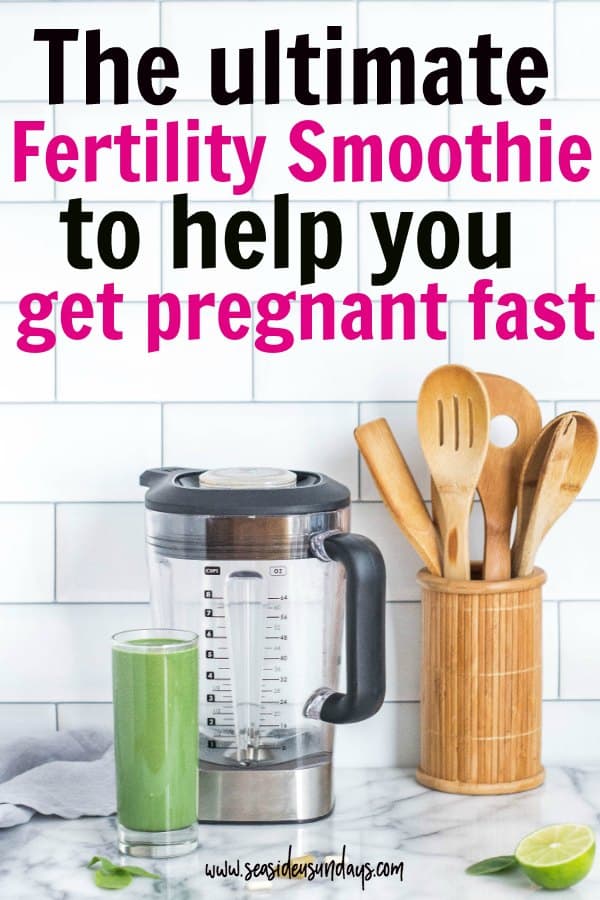 Get A Free 5 Day Fertility Meal Plan!
Boost your fertility with this 5 day kick start program
Sign up below for instant access to this free plan & more fertility tips