Is this holiday season extra merry for your family? If you are expecting another addition to your family, why not share the news with one of our Christmas pregnancy announcement with siblings?
I'm sure in your family, the siblings are excited to be gaining a new brother or sister and you probably want to make sure to include them in all your planning.
A sibling pregnancy announcement is a festive way to let everyone know that they are soon to be promoted to big brother or big sister.
While every pregnancy announcement is fun and exciting, around the holidays sharing some Christmas cheer is extra special.
And of course, including older children when you share the news makes it even more magical for the whole family.
You'll love the adorable sibling Christmas pregnancy announcement ideas below that are sure to make this your best holiday season yet!
This post may contain affiliate links. Please read my Affiliate Disclosure for more information
MORE FUN HOLIDAY IDEAS FOR BABIES
The Best Baby's First Christmas Ornament
12 Baby's First Christmas Ideas To Make It Special
Christmas Pregnancy Announcement With Siblings

Christmas is a special time to announce a new baby. For many families, it is a time when they are all together and can share the news with everyone at once.
It can be a fun way to let your siblings know that they are going to be aunts and uncles.
If you are pregnant and considering announcing your pregnancy on Christmas why not use one of the ideas below to include your older children?
Making it a family affair is sure to make your baby reveal extra special!
My Christmas Wish List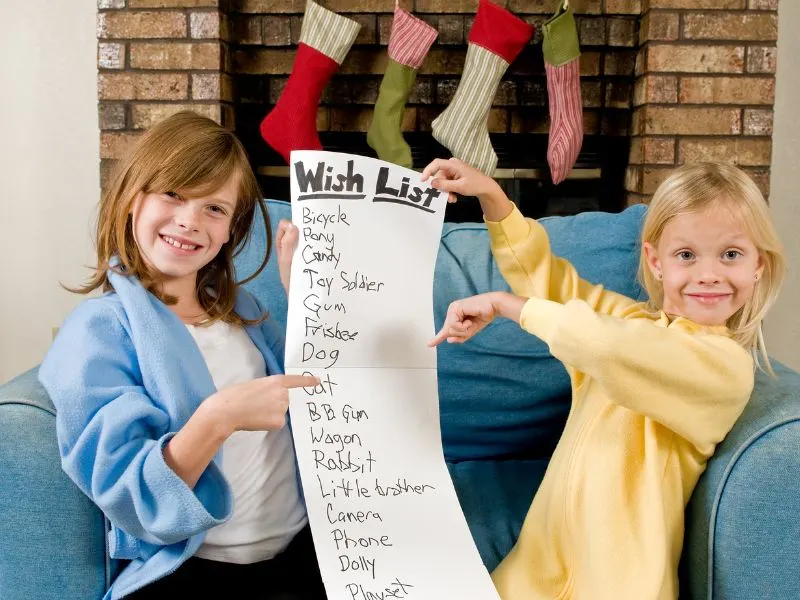 Keep it super easy but a little bit tricky with a Christmas wish list pregnancy announcement.
All you need to do is get the older siblings to create their wish list for Santa but to sneak a little surprise someone in the list.
Then snap a photo, post it on social media and see how long it takes for anyone to clue in to your big news!
Christmas pyjamas would definitely take this pregnancy announcement to the next level too!
No More Only Child
This adorable holiday pregnancy announcement is so cute and easy to recreate at home!
I love the feet of the older sibling perched on the galvanized steel bucket – it is so original and fun!
This is such a sweet and fun way to announce becoming a sibling on social media, especially if you don't want to show your child's face online.
Put them in a cute Christmas outfit and you have the perfect holiday card picture too!
Grab your own copy of the sign from Printable Candee.
The Stockings Were Hung Pregnancy Announcement
This is how I announced baby number 2 to the world!
It is such a simple but festive way to announce your Christmas pregnancy to the world!
All you need to do is hand your stockings on the mantle and add one for baby.
You can get cute personalized stockings with your name's on and get one that says baby or a "baby's first Christmas" stocking.
If you can get a glimpse of your Christmas tree in this photo, it makes it even more fun but you can really go as festive as you like with it.
For an added touch, you could have big brother or sister pretending to fill baby's stocking while you the photo!
Other ideas I have seen is to have either your ultrasound photo or a positive pregnancy test sticking out from the top of a stocking.
My Mom and Me
If you are looking for a funny sibling pregnancy announcement this holiday season, how about this fun version?
It is really easy to do and is sure to get a few laughs from friends and family when you share it on your Facebook or Instagram.
Even if your bump isn't really showing yet, this is still a really fun way to share your exciting news with everyone in a light-hearted and festive way.
Dear Santa Letter
This adorable Christmas pregnancy announcement is themed around one of everyone's favorite holiday traditions – our letter to Santa!
This is also a fun and easy Christmas pregnancy announcement to do at home as you can just get your older sibling to write a Dear Santa letter but to include "baby brother or sister" as one of their wises.
You can use colored pens and plain paper or you can even use one of my Dear Santa letter templates to make it even more fun.
Make this pregnancy reveal even more special by taking a photo of your older child actually writing their letter by the Christmas tree!
Holiday Heartbeat Pregnancy Announcement
I love this Christmas pregnancy reveal for an older sibling!
Lots of ideas for Christmas pregnancy announcements with siblings are for younger children and toddlers but this one is super sweet and perfect for any age.
All you need to do is put on some festive attire and have the older sibling pose as though they are trying to feel the baby move. You can add a letter board sign to announce your pregnancy or let the picture do all the talking for you.
Can You keep A Christmas Secret?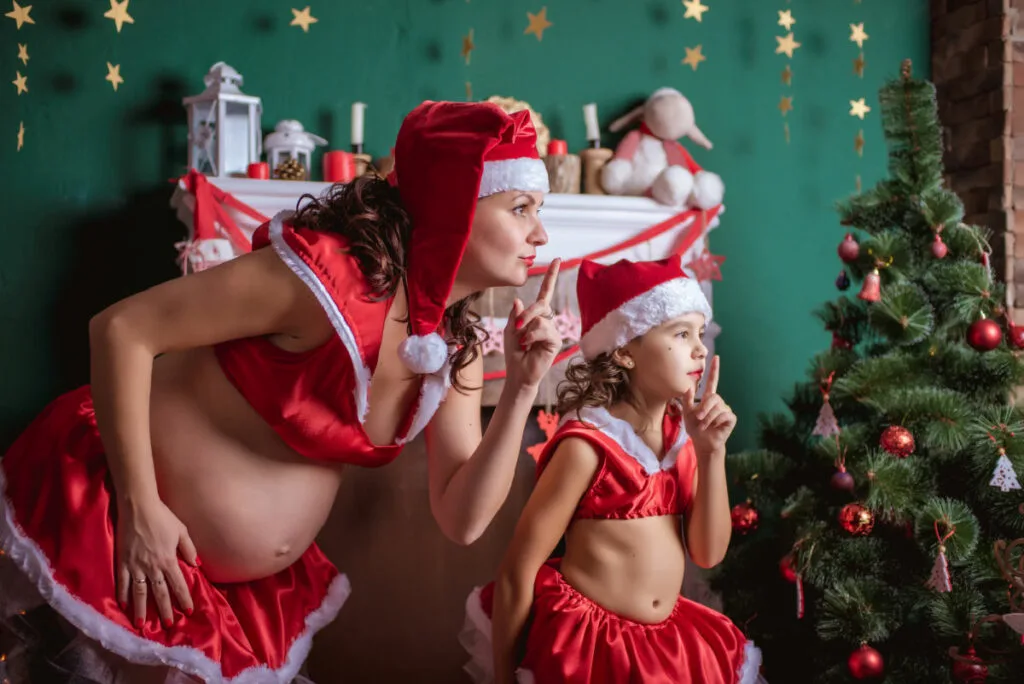 This fun announcement is a great way to get mom and daughter involved with the big news!
Of course, big brother can don some holiday clothes and join in too!
This is another easy idea that doesn't require much planning or preparation – you just need some cute Christmas outfits and to strike a pose as though you are hiding a big secret.
You could also add in a letter board pregnancy announcement that says "We've been keeping a little secret", a bit like this one from Etsy.
Christmas Cookie Pregnancy Announcement
I'm always a huge fan of cookie pregnancy announcements and it doesn't get much cuter than this fun idea!
Bake some cookies for Santa and take the opportunity to snap a quick pic of your older child getting ready for his or her role as a big sibling.
All you need is a cute Santa hat and some messy baking going on to make this the cutest photo op ever!
Christmas At The Tree Farm
One of our family's newest but most favorite holiday traditions is to head to the tree farm and cut down our own Douglas Fir.
It also makes for some fantastic Christmas photos too!
If you and your family visit a tree farm every year, take the opportunity to create a wonderful Christmas pregnancy announcement with siblings!
You can use a printable sign like this one or you can bring a letter board and write your own message.
Christmas Ornament Announcement
An extra- special holiday ornament for your Christmas tree is a great way to share your big news with the whole world.
Plus, it makes a fantastic gift and keepsake for many Christmasses to come.
You can buy a blank ornament and write your own message with permanent marker or you can buy a custom Christmas ornament from Etsy or Amazon.
Say It With A Sign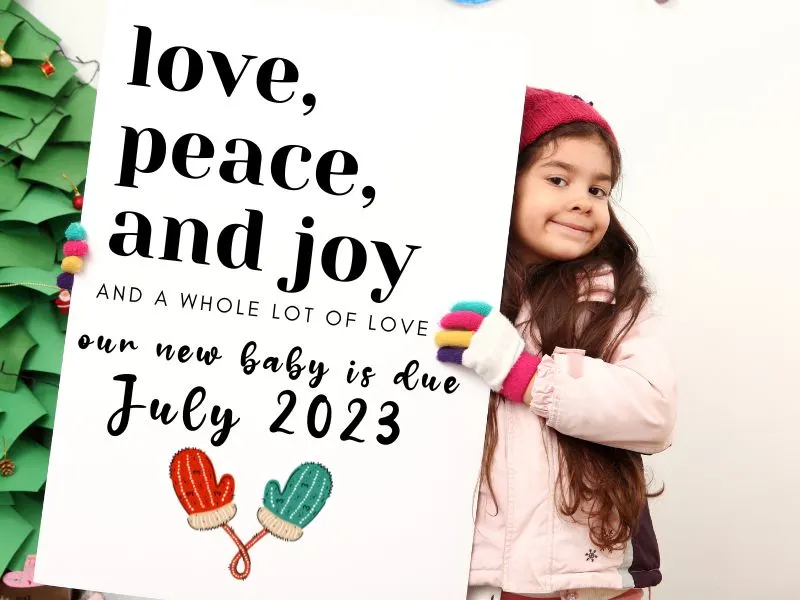 Super size your Christmas pregnancy announcement with a larger than life piece of card stock (grab yours at the dollar store or a craft store) and share your BIG news with the world!
This is a really simple way to let everyone know you are expecting this holiday season and it makes for a really cute social media announcement.
Recipe For A Big Sister
Spread some holiday cheer with this fun big sibling Christmas pregnancy announcement!
Many of us include Christmas baking into our holiday bucket list and it makes the most festive pregnancy announcement this time of year.
Dress up big brother or sister with a festive red apron and a big smile and you have the sweetest, most perfect way to tell the whole world that there is a bun in the oven.
The More, The Merrier
Whether you are expecting baby number 2 or baby number 5, this baby announcement idea is the sweetest way to share the exciting news that another family member is on the way.
The best part about this kind of announcement is that all you need are your older children dressed up in cute Christmas outfits and sitting under the tree.
Then grab a "More The Merrier" sign from Etsy and away you go!
Another fun idea is to have the whole family drinking out of these hot chocolate mugs that also say "More Is Merrier"
This is also a great way to include your pets in your pregnancy announcement, after all – the more is the merrier!
My Little Gingerbread
Sticking to the baking pregnancy announcement theme, how is this for a super sweet way to tell everyone that a new family member is on their way?
It is a nice variation to the Christmas cookie announcement and just as adorable and easy to put together.