Christmas eve is a special time for many families. It is a time to come together, share food and gifts, and enjoy each other's company. For many families with young children, it is also a time to start new traditions. In this post we have some great ideas for Christmas eve ideas for toddlers that the whole family will enjoy.
Whether you pick one of the family Christmas traditions below or you add a few of them to your special day, they are sure to get your toddler in the Christmas spirit while they wait in anticipation of Santa's visit.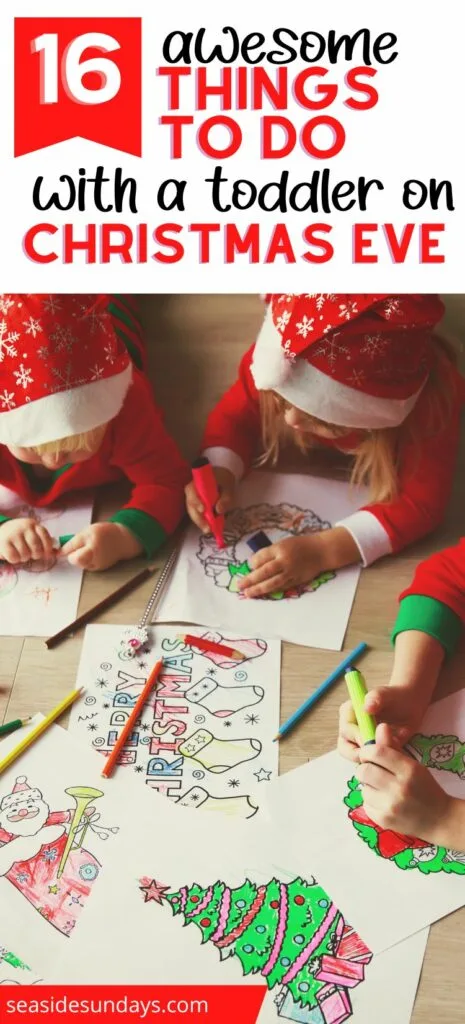 This post contains affiliate links. Please read my Affiliate Disclosure for more information
MORE FUN CHRISTMAS TRADITIONS
32 Things To Put In Christmas Goodie Bag For Kids
A New Christmas Tradition: The Elfpreneurs
The Best Christmas Eve Traditions For Toddlers

Christmas is a magical time for kids. They get to stay up late, eat treats, and open presents.
But what about Christmas Eve?
What traditions can you start with your toddler that will make this night just as special?
While you may have fun Christmas eve traditions for your family that have been passed from generation to generation, many people want to add new rituals and activities once they have kids.
In this list I have compiled some of the most popular ways to get excited in the run up to the big day.
Decorate A Gingerbread House
One Christmas time tradition that you can do with your toddlers is decorate gingerbread houses.
This is a fun activity that the whole family can do. It's also a great way to get the kids into the holiday spirit.
Some families may even have gingerbread house building contests.
Gingerbread houses are easy to make and this will help you bond with your toddlers as you build it together.
Of course you can also buy ready build houses and then just let your toddler go to town on the decorating part.
I put out different candies in small bowls and typically help with the frosting part.
It is a fun way to let your child get messy and creative during the holiday season.
Have A Special Christmas Dinner
Christmas eve is a special time for families to come together and celebrate.
For many families, this means spending time preparing a big feast.
But if you have young children, this can be daunting and may not be necessary.
If you are able to start a new family tradition for a Christmas eve dinner with your toddlers, there are lots of ways to make it a fun and memorable experience.
Keep it simple
When it comes to food, toddlers can be picky eaters.
Stick to simple dishes that they are likely to enjoy.
A buffet style selection of your favorite family foods is a nice way to make the meal extra special.
Make it festive
Set the mood for Christmas by playing festive music and decorating the table with holiday-themed centerpieces or place mats.
This will help get your toddler into the spirit of the season.
You can also have the dinner on the floor under the Christmas tree for an extra special touch.
Plan Fun Activities
There are lots of free printables online that you can use to keep your toddler busy while you prep the feast.
They also double as fun holiday decor.
Bake Christmas Cookies
Of course, you likely need some cookies to leave out for Santa and there is nothing better than a homemade sugar cookie!
One fun Christmas eve activity is to make Christmas cookies together.
This is a great opportunity to teach your child about measuring and baking, even if you use a store bought cookie mix.
Plus, kids of all ages love to decorate cookies with icing and sprinkles!
Let them get creative with different colors and designs- add in holiday colored M & Ms for something extra festive.
Make Reindeer Food
This is a new Christmas eve tradition that I have just started with my kids.
It is a fun ritual that we do before bedtime on Christmas eve.
We have always left carrots out for Santa's visit but now we have started making reindeer food and sprinkling it on the lawn too.
All you need to make reindeer food is:
Dry Oatmeal
Edible Glitter
Holiday Sprinkles
Just mix up the ingredients in a bowl and then sprinkle it on the lawn on Christmas eve night.
If you do give your child a Christmas Eve box on the night before Christmas, this is a great little addition is you make it ahead of time and put it in a little bag.
The next day on Christmas morning, they love running out to see if the reindeers ate their treats.
Note that it is important to use edible glitter or sparkling sugar as regular glitter is harmful to wildlife.
Drive around and look at the Christmas lights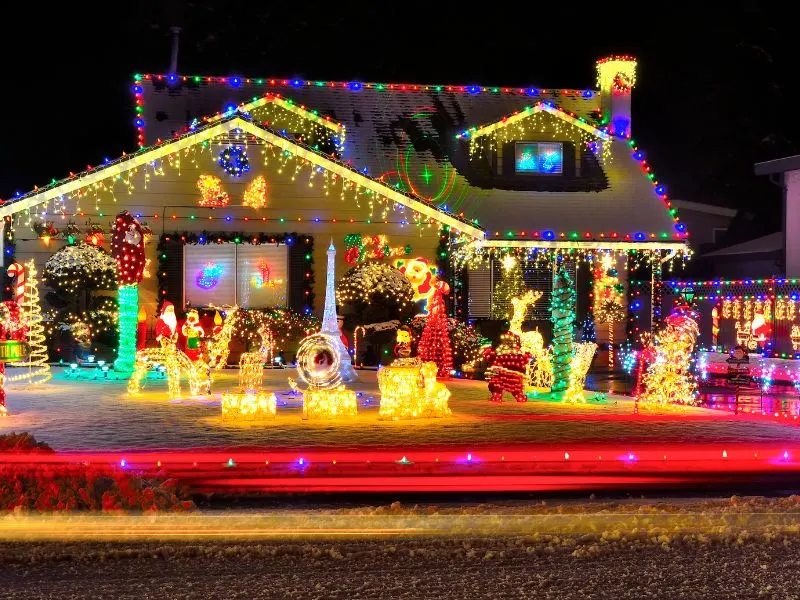 Driving around the neighbourhoods while looking at the light displays is one of the most fun Christmas activities out there.
We have it on our Christmas bucket list every year and often go out more than one night.
I find it is extra special when we go on Christmas eve.
The great thing about this activity is that it gets dark early in the winter so that you can go out for a drive and still have enough time for a proper bedtime routine.
We normally do dinner first then have hot chocolate and a cookie in the car as we drive around.
Add in a Christmas scavenger hunt to make it even more fun.
Watch a Christmas Movie
The Christmas season wouldn't be complete without a holiday movie.
From "The Grinch Who Stole Christmas" to a classic like" A Christmas Story", there are so many to choose from.
My children love watching short movies featuring their current favorite character like the Paw Patrol Christmas specials or the Peppa Pig holiday episodes.
All the streaming services have lots of fun holiday movies and you can also grab them from your local library in DVD form if you plan in advance.
Check out this Christmas movie bucket list free printable for more ideas.
Play Board Games
Get the entire family involved with a game night in the living room.
Put some Christmas music on in the background, light the fire and nibble on candy canes while you play some family games.
This is one of the best Christmas eve traditions if you have both older kids and toddlers and you want everyone to spend some quality time together.
Pick out your favorite game or check out some of these ones that are filled with the joy of Christmas:
Frosty The Snowman Follow The Leader Card Game
Rudolph The Red-nosed Reindeer Board Game
Not in the mood for a board game? Check out these fun and festive Christmas party games instead!
Make Christmas Playdough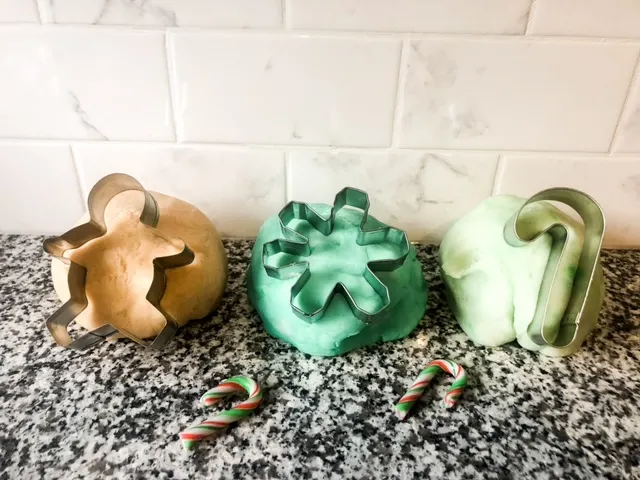 Young kids love playing with dough and it is even more fun when you make your own.
I love this simple recipe for peppermint playdough that you can whip up in minutes.
If you are not a fan of peppermint, you can also make this gingerbread playdough that comes with a free printable playdough mat for your toddler to use.
All you need to do is add in Christmas cookie cutters to make it even more festive.
Do Christmas Crafts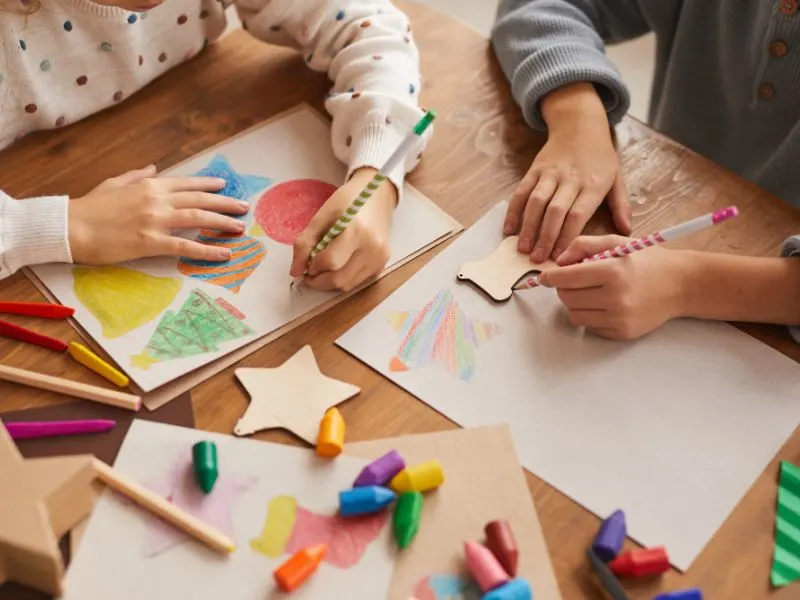 Grab your glue stick and and some paint and get crafty!
You can make popcorn garlands or make Christmas cards for family members to get into the spirit of Christmas.
Here are some ideas for fun holiday crafts for toddlers:
Write a Letter To Santa
While your kids have probably already written their Santa letter by Christmas eve, a fun tradition is to leave a note with Santa's cookies.
You can use some of the free printable letter to Santa templates here.
You never know, Santa might even write back!
Read Christmas Stories
Another fun holiday activity is to read a Christmas book together.
This can be a tradition that you continue every year.
You can even make it more special by reading by the light of the Christmas tree.
There are so many great Christmas stories to read to your toddler but of course, The Night Before Christmas is a classic.
If you want a more modern book, The Elfpreneurs is a great new holiday classic.
Go Ice Skating
This is one of my favorite Christmas eve traditions.
Going skating is the perfect way to spend Christmas eve day and it really gets you in the holiday spirit.
Teaching your toddler to skate is so much fun and a great way to stay active during the winter.
Look for rinks that have skate and helmet rentals so you don't have to spend too much money.
You can even combine skating with last minute Christmas shopping at these malls that have skating rinks.
Start A Christmas Eve Box Tradition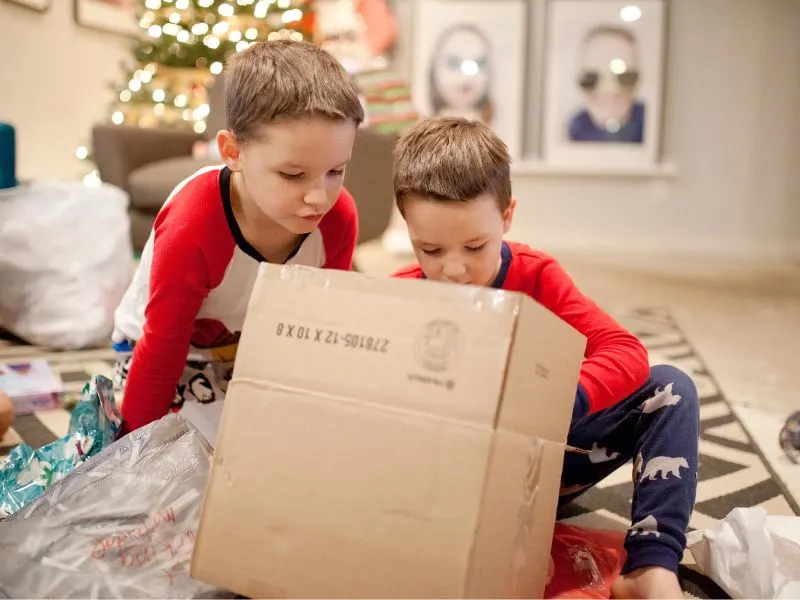 Christmas eve boxes are one of those new Christmas traditions that have really taken off.
All you need is a small box and a few special items in it, normally things to keep your kids entertained during the Christmas eve activities.
Ideas for the perfect Christmas Eve box:
A new book
A hot chocolate packet
Christmas Pajamas
A Christmas movie
A small gift such as these free printable unicorn coloring sheets (this is a great way to keep them busy on Christmas morning).
For lots of great ideas for a box to remember check out my 41 Christmas Eve Box Ideas For Toddlers.
Play In The Snow
Having a snowball fight or making a snowman is one of the most fun Christmas traditions if you live in a cold climate.
If you want to make it extra special, I recommend watching The Snowman by Raymond Biggs.
It is a fun story about a boy who makes a snowman on Christmas eve that comes alive that night.
If you don't have any snow, a winter nature walk is a great way to blow off the cobwebs and enjoy some fresh air before you settle in for your long winter's nap.
DIY Last Minute Christmas Gifts
Need a last minute gift for a special family member?
Although you have probably got most of your Christmas presents ready by Christmas eve, why not make a special gift for someone?
Making handmade gifts is one of the best Christmas eve traditions for toddlers as it teaches them so much about the season.
My toddlers love helping make candy cane body scrub for grandma and their aunts.
It is so fun measuring and pouring the sugar mix together. They ask to make it every Christmas holiday.
Another idea is to make some cute snow globe ornaments.
Have a Christmas Photo Shoot
Don your Santa hat and get snapping to make some fun holiday pictures for the whole family.
You don't need to be a professional photographer to take great photos of your toddler and they will great memories to last a lifetime.
You can do the phot shoot at home or go out in nature and take some fun outdoor Christmas photos.
Here are some ideas for creative Christmas photo ideas you can do at home.
Christmas Eve Ideas For Toddlers: Final Thoughts
The Christmas family traditions above are a great way to have some Christmas fun with little kids.
Even if you have a pretty busy Christmas eve, just one of the holiday traditions in this list is sure to be a great addition to your family time!
Christmas is the perfect time for having fun with your kids away from the busyness of schedules and work.
Remember, when it comes to making memories, it is the little things that count and you don't have to do every single tradition on this list to have a great Christmas – pick one fun thing and make it your own so you don't get overwhelmed.